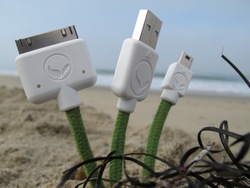 To mark Earth Day on April 22, Ohmlop will donate $1 (5%) from every sale of its PVC-free connector cables for the rest of the month to the Basel Action Network (BAN)
California (PRWEB) April 20, 2011
A recently launched company is looking to give back, encourage e-waste education and stimulate the electronics industry to reconsider its manufacturing materials. Ohmlop was founded on the premise of looking for a simple solution to the worlds' fastest growing waste stream, e-waste, while acknowledging the need for digital age products that are earth-friendly.
To mark Earth Day on April 22, Ohmlop will donate $1 (5%) from every sale of its PVC-free connector cables for the rest of the month to the Basel Action Network (BAN). The company believes that BAN's mission to end social injustices caused by the electronic waste trade is something everyone should be aware of.
"We were shocked by the massive amount of e-waste created by wealthy nations, the issues with PVC plastic, and by the devastating health and environmental problems caused by its disposal in places like Ghana and China," says Ohmlop co-founder Kristian Rauhala. "A key goal for Ohmlop was to demonstrate that there are ways to manufacture accessories for digital devices that are less harmful to the planet."
There is no easy way to remove PVC casings from cables. Instead, e-waste is often shipped to developing nations, where workers melt off the plastic to extract the valuable metals within, creating toxic fumes.
Ohmlop cables are designed to appeal to the digitally connected consumer and traveler who cares about the environment. "There are hundreds of millions of blogs, over 100 million digital cameras sold each year, and more than 300 million iPod devices out there," says Ohmlop co-founder Mark Fewell. "Ohmlop cables can be used to help people share their stories, videos and photos, but without adding more PVC to the planet."
Ohmlop wanted a better feel and a visual statement: its cables are insulated with braided cotton, which can easily be removed to extract the copper wiring, a highly recyclable metal. The cable-ends are made of recycled PET from used water bottles. Ohmlop offers USB sync cables for iPod®, iPhone® and iPad® devices, a USB to Mini cable, and a USB to micro cable.
E-waste is the fastest growing category of trash in the US. According a United Nations Environment Program report, the US generates over 3 million tons of unwanted electronics every year. It is estimated that 50-80 percent of the e-waste collected for recycling is exported to developing nations, a practice that is legal because the US has not yet ratified the Basel Convention.
Ohmlop connector cables are available at http://www.ohmlop.com. Ohmlop is a member of 1% For the Planet, and ships to carbon neutral to consumers thanks to Greenshipping.com.
###