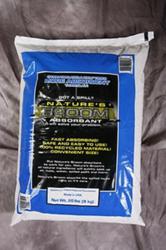 Destin, FL (PRWEB) March 06, 2012
For those who endured watching the 2012 NASCAR Daytona 500 until the wee hours of the morning, the most memorable event of the race was the massive fire caused by Juan Pablo Montoya's car plowing into the NASCAR's jet engine powered track dryer. This accident caused the spilling and igniting of jet and diesel fuel from the ruptured tanks on the truck. After finally extinguishing the fire, the first task in restarting the race was to clean up the spilled fuel. Disaster Relief Supply, who is a major supplier of Disaster Recovery Products, has a solution for this type of emergency.
During the event, the term "Speedy-Dry" was mentioned a number of times as a material used to absorb the spill. Searching the web for this term yields a number of companies using this name which pertains to everything from additives for printer's ink to oil absorbents. NASCAR uses this term as a generic name for oil absorbents like "Kleenex" is used for tissue.
Basic oil absorbents have been clay based for many years. Clay based "Kitty Litter" has been every garage mechanic's safety net when a leaking car stains the driveway or garage floor. The problem with clay based products is disposing of the oil residue in an environmentally safe manner. Absorbents soaked with oil dumped into a garbage can, and subsequently ending up in the local land fill, is not environmentally safe let alone illegal.
Nature's Broom came up with a better idea. This environmentally safe product breaks down the oil molecules in the oil to render it safe for the environment. Nature's Broom Oil Absorbent removed 76% of the TPH levels over a nine week test period. BP used this same basic argument justifying the use of oil dispersants two years ago during the Gulf Oil Spill. Oil will degrade with addition of microbes (bacteria) over time. Although Nature's Broom doesn't claim that absorbent residue can be discarded in a landfill, it is made with 98% recycled material, absorbs more oil per pound than clay, absorbs quicker, and since you use less material to absorb the oil, it cost about 68% less to clean up the same mess.
Nature's Broom Absorbents are available from Disaster Relief Supply in Destin, FL or on line at
http://www.disasterreliefsupply.com/nature-s-broom-absorbent.html