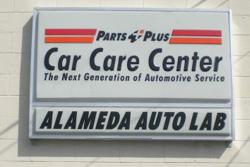 Free drop-off and pick-up service is provided for customers within the City of Alameda
Alameda, CA (Vocus/PRWEB) April 23, 2011
Alameda Auto Lab Car Repair and Service is offering a 20 percent discount on oil changes, filter replacements, chassis lubrications, tire rotations, and, break inspections from now until Easter Sunday.
"In addition to the limited-time discounts we are offering now, customers can receive the free drop-off and pick-up service we always provide within the City of Alameda," said Robert Ramos.
Alameda Auto Lab has been in business for 20 years and is located at 631 Buena Vista Avenue in Alameda. They provide the communities of Oakland and Alameda with reliable service and durable parts.
Car repairs are guaranteed. Computerized diagnostic and vehicle lift systems allow the technicians to see every part of the vehicle, including inside the motor and into any other key parts of the vehicle. Frequent oil changes help prevent motor malfunctions and improve the vehicle's performance. Clients can be confident that every device will be checked out at an Alameda Auto Lab inspection.
For more information about Alameda Auto Lab Car Repair and Service, call at 510-863-8098 or visit their web at alameda-oaklandautolab.com.
About Alameda Auto Lab
Alameda Auto Lab is an Alameda auto repair and service facility that specializes in repair and service to foreign and domestic vehicles' fuel injectors, electrical systems, engines, transmissions, air conditioning systems, and brakes. They also perform 30,000, 60,000 and 90,000 mile services, oil changes and lubrications.
Alameda Auto Lab's customer base has increased over the years because of their good and reliable service. The Alameda oil change and car maintenance and repair shop's mission is to provide customers with quality service at competitive prices. The shop beats dealer's prices for 30,000 60,000 and 90,000 mile services.
Though hybrids have the reputation of being mostly trouble-free, there are many components that are unique to the hybrid that make them complicated. Alameda Auto Lab has invested in all the necessary equipment and training to provide the correct service and repairs to hybrid vehicles of all makes and models.
They also offer Penske truck rentals in Alameda.
# # #