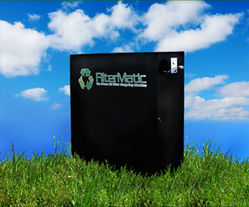 Tiffin, Ohio (PRWEB) September 8, 2009
Arnold Machine, Inc., maker of the FilterMatic oil filter recycling machine, is promoting the positive impacts to the environment and the economy through proper handling of used oil filters.
According to the EPA, the following benefits to the environment and the economy result from recycling used oil:

Saves Energy: Re-refining used oil takes only about one-third the energy of refining crude oil to lubricant quality. Less energy is required to re-refine used oil.
Saves Natural Resources: It takes 42 gallons of crude oil, but only one gallon of used oil, to produce 2 ½ quarts of new, high-quality lubricating oil. Motor oil does not wear out--it just gets dirty--so recycling it saves a valuable resource.
Re-used as Fuel Source: One gallon of used oil processed for fuel contains about 140,000 British Thermal Units (BTUs) of energy.
Stops Pollution: Recycling used oil keeps it from polluting soil and water.
The EPA also reports these astounding facts about used oil:

One gallon of used motor oil pollutes one million gallons of water, threatening community drinking water and the environment.
Two hundred million gallons of used oil are improperly disposed of each year.
Recycling just 2 gallons of used oil can generate enough electricity to run the average household for almost 24 hours. (Source: American Petroleum Institute)
Used motor oil from a single oil change can ruin a million gallons of fresh water - the equivalent of one year's supply of water for 50 people!
In response to the threats posed by improper used oil filter recycling, Arnold Machine, Inc. introduced FilterMatic earlier this year. FilterMatic is designed to address the growing needs for efficient used oil filter recycling. It is a completely automatic used oil filter recycling machine that is sold to generators as an alternative to standard oil filter crushers. FilterMatic differs from traditional filter crushing machines in that it enables complete recycling of all filter parts, including the steel, filter, and oil.
FilterMatic was specifically created for generators, which are the largest segment of the used oil industry, to maximize the recycling potential of used automobile oil filters. These generators are businesses that handle used oil through commercial or industrial operations or from the maintenance of vehicles and equipment. Quick Lube operators, auto and motorcycle dealer service shops, industrial vehicle maintenance shops, commercial fleet managers, and used oil filter recycler exchange centers can use FilterMatic.
Unlike a traditional used oil filter crusher or disposal method, FilterMatic is a completely automatic machine that easily:

removes and collects the steel base plate from the filter
crushes and extracts used oil from the filter
collects the resulting steel, filter, and used oil for proper recycling or disposal
About FilterMatic:
FilterMatic is a patented automatic machine (Made in the USA) that enables the safe and efficient disposal and recycling of automobile used oil filters, while generating income from the reclaimed materials and goodwill in the minds of customers. In relation to alternatives, FilterMatic is easier to use, more efficient, and provides a more holistic approach to used oil filter management.
About Arnold Machine, Inc.:
Arnold Machine Inc, maker of FilterMatic, is a full-service designer and manufacturer of high quality, innovative automated equipment and industrial services. The company has introduced FilterMatic as a way meet the rigorous environmental standards being put in place for proper disposal and recycling of used automobile oil filters.
# # #