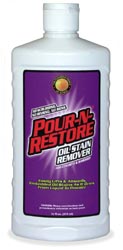 Our goal has always been to provide quality, easy to use and affordable products to our consumer. While these products are not in of themselves garage floor coverings, they assist the consumer in installing coatings and even other garage floor products
Grand Junction, CO (PRWEB) November 14, 2012
Garage Flooring LLC, a leading online distributor of garage flooring and storage, announced today the addition of new products designed to help its customers clean the garage floor --while being environmentally friendly.
"Our goal has always been to provide quality, easy to use and affordable products to our consumer. While these products are not in of themselves garage floor coverings, they assist the consumer in installing coatings and even other garage floor products" states Justin Krauss, President of Garage Flooring LLC.
Garage Flooring LLC introduced three new products. The first is for acid etching and cleaning a floor prior to the installation of a garage floor coating. Typically this is done using muriatic acid which is extremely dangerous and difficult to properly apply. The new gel based acid suspends the acid in a gel solution which does not activate until it hits the concrete surface below. This reduces the severity of damage caused by exposure to the product, although consumers are still warned to take proper precautions. The product has recently been approved to ship via ground without HazMat labels and packaging --in up to four gallon cases.
In addition to be a safer way to etch a garage floor, in many cases the product is friendlier to the environment as well. The disposal guidelines for the product are less stringent which allows the product to be easily discarded without causing damage to the environment. Further, because the product is suspended in gel it tends to etch the garage floor more evenly than liquids.
Garage Flooring LLC has also launched the Pour N Restore line of oil stain removers and degreasers. Removing oil stains is necessary for any coating, but even consumers with no garage floor cover at all need to remove oil stains from their concrete floor.
Pour N Restore does not use harsh chemicals. It is applied in a liquid form and dries to a powder. Once the product is dried you simply sweep the oil stain away. According to the manufacturer Pour N Restore requires no scrubbing.
About Garage Flooring LLC
Garage Flooring LLC is a leading online distributor of garage flooring and storage based out of Grand Junction, CO. Garage Flooring LLC stocks some product while drop shipping others direct from the manufacturer.