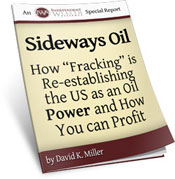 The Special Report highlights an Institute for Energy Research quote that says "The shale oil boom has brought employment to North Dakota, where its GDP has increased by 33% from 2006 levels."
Austin, TX (PRWEB) May 31, 2012
The oil fracking companies beginning to emerge as advantageous investments are developing a new American oil boom, according to a new article from AbsoluteWealth.com. It may not be the most traditional method, and it may not be a widely-known practice, but fracking is accessing massive amounts of natural gas. It could be the kick starter for America's future energy independence.
The article said to think about what that could mean: investing in a company that is part of an industry explosion will not only boost a personal portfolio, but can generate economic stimulation and a pleasing outlook on the future of energy consumption. America sits at the edge of a new oil revolution, and the article said that extracting, producing, and exporting natural gas will all develop into promising sectors of the industry.
Thanks to Absolute Wealth, investors now have a guide to help them learn about the fracking opportunities before they've passed them by. "Sideways Oil: How "Fracking" is Re-Establishing the U.S. as an Oil Power and How You Can Profit" is the latest Special Report for Independent Wealth Alliance members, and the article said it's riddled with useful advice and strategies to implement immediately.
Fracking, otherwise known as hydraulic fracturing, drills L-shaped wells into shale rock formations. It then busts apart the rock and releases natural gas deposits for easy extraction. The Special Report highlights an Institute for Energy Research quote that says "The shale oil boom has brought employment to North Dakota, where its GDP has increased by 33% from 2006 levels."
The article said investing in fracking companies can lead to a piggy-back scenario, where smart and informed traders can ride the super drilling concept that will speed economy recovery and lessen America's reliance on foreign oil supplies. As the Special Report says, current natural gas supplies in American shale rock can provide us with fossil fuels for the next 200 years.
Absolute Wealth is an expert team of real investors and advisors devoted to identifying winning strategies for exceptional returns. Members subscribe to the Independent Wealth Alliance for professional investment analysis and recommendations on the latest trends and progressions. For more information and subscription instructions, visit AbsoluteWealth.com.
As this Golden Age of Gas progresses, fracking will continue to play its leading role. But finding the fracking company stocks with the best potential isn't an automatic process. Let Absolute Wealth explain things in an easy-to-understand way and prove which oil fracking companies are worth investor attention.