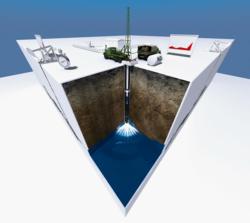 "Having seen an approximately 100% combined improvement of oil production is simply amazing," said Mr. John Zotos, a board member of Propell and Novas.
Houston, TX (PRWEB) May 30, 2013
On March 19, 2013, Novas treated 2 oil wells in the Fredericksburg limestone formation near Shreveport, Louisiana. While these are not as large as production wells located in other parts of the world, they still mark the first such treatments in North America. Since these treatments, the operator has made regular reports and also provided testing data via on site "barrel tests," which have indicated a significant rise in oil production.
Consistent with previous wells treated, both wells on this shallow field responded with an increase in immediate production. The initial treatments were completed within a 24-hour period as we worked through the night and successfully pulsed the specific pay zones already in production.
According to the field owner and operator, the increase in production has remained constant. "Having seen an approximately 100% combined improvement of oil production is simply amazing," said Mr. John Zotos, a board member of Propell and Novas. "I insisted on being on site and helping implement the technology and was taken by complete surprise as to how effective the device and treatment have been. Given my background in geology and physics, I know that viscosity and the surface tension in the surrounding sub terrain can be lowered, which is exactly what appears to have been the key to the production improvements. Now I'm truly a believer."
About
Novas Energy USA is a wholly owned subsidiary of Propell Technologies, PROP. The public company acquired a specific oil and gas recovery enhancement technology at the end of 2012 that has been shown to significantly improve existing well recovery and production volumes. Prior to this acquisition, the company's focus had been in a software technology, targeting retail textile sales that had been directed under former management. For more information, visit http://www.novasenergyusa.com or call 713-227-0480, Novas Energy USA, 1701 Commerce Street, Houston, Texas 77002.
SAFE HARBOR STATEMENT
This news release contains forward-looking statements within the meaning of the Safe Harbor Provisions of the Private Securities Litigation Reform Act of 1995. These forward-looking statements are often identified by the words "believe," "anticipate," "expect," "intend," "estimate," and similar expressions. All statements in this document regarding the future outlook related to Novas Energy USA and Propell are forward-looking statements, including but not limited to the initial results from the treated wells and the timing and release of future data. Such statements are based on the current expectations, beliefs, estimates and projections of management and are subject to a number of risks and uncertainties that could cause actual results to differ materially from those described in the forward-looking statements including the risk that the future data will not be as favorable as the initial results. Additional uncertainties and risks are described in our most recently filed SEC documents, such as our most recent annual report on Form 10-K and quarterly report on Form 10-Q. For a more detailed discussion of factors that affect Propell's operations, please refer to the Company's Securities and Exchange Commission filings. Copies of this filing are available through the SEC website at http://www.sec.gov. All forward-looking statements are based upon information available to us on the date hereof. Propell undertakes no obligation to update this forward-looking information.