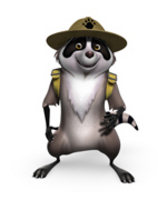 Reston, VA (Vocus) May 7, 2010
Parents, teachers and care givers might be stumped when their kids ask questions about the oil spill. How do you answer those questions in terms children will understand without unduly scaring them? Are there things kids can do so they don't feel so helpless? The National Wildlife Federation has developed a useful web site with lots of information for kids which includes resources for adults too so they can be better equipped when being asked for answers. The site includes:
For Kids

Kids Ask Ranger Rick About the Oil Spill - (Ranger Rick from the National Wildlife Federation's award-winning children's magazine)
Helping Wildlife in Trouble – See how experts and volunteers are helping wetlands and wildlife survive the oil spill?,
What is a wetland and why are they important?,
Wet Bits – Check out these fascinating facts about wetlands,
What Can Kids Do to Help? Here's how you can do your part,
Books to Read - Children's books about wetlands and the impact oil spills can have on them.
For Parents, Caregivers and Teachers

Guide on how to talk with kids about the oil spill
Lesson Plans on wetlands and the oil spill
Check out the web site and share it with the children in your life so they can be better informed about this environmental crisis with long lasting effects http://www.nwf.org/oilspill/kids
Media Contact: Mary Burnette, 703-438-6097.
# # #