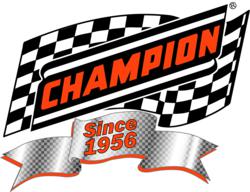 Champion Publishes Oil Analysis Technical Service Bulletin
Clinton, MO (PRWEB) May 26, 2012
The newly published Champion Oil Technical Service Bulletin (TSB) on Oil Analysis can be found at http://www.championbrands.com/Oil%20Analysis.pdf or on the Champion Brands home page link listed as Tech Bulletins.
Used oil analysis is the cornerstone of predictive maintenance. Unfortunately, there are not industry-wide standard for what test results suggest a change in oil, filter, or change of the service interval. Background on tests, the composition of oils, and the machine that is being lubricated are critical in determining the correct used oil analysis practices for your business
Some of the most important tests in the oil analysis spectrum are viscosity, wear metal concentration, coolant and water contamination, fuel contamination, soot level and other abrasive contaminants, particle counts, acid or base numbers, etc.
Oil analysis is a critical part of an effective predictive maintenance program and can be used to increase productivity, maximize service intervals, and premature equipment failure. Using the tools of oil analysis, the expertise of oil analysis experts, OEM's, and lubricant suppliers can improve the reliability of your equipment and may the total cost of labor and lubrication.
About the company: Champion Brands, LLC, is a globally recognized industry leader in specialty lubricants for over 55 years. Champion Brands, LLC produces and blends over 300 products including fuel, oil, engine additives, and lubricants for the automotive, racing, heavy truck, agricultural, industrial, and specialty markets. For more information about Champion Lubricants contact your nearest Champion distributor, or call Champion at 800-821-5693 or 660-885-8151. Champion Brands, LLC; 1001 Golden Drive, Clinton, MO, or go to http://ChampionsUseChampion.com.