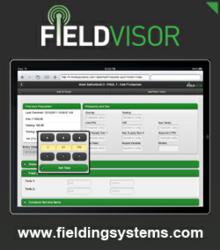 Even field techs with zero computer experience have been able to pick it up and run with it.
Tampa, FL (PRWEB) October 09, 2012
Fielding Systems has announced the release of their FieldVisor Tablet app, a native Android app to complement its comprehensive FieldVisor field data capture and operations management solution for Oil & Gas. The native Android app is designed to run with full capability offline from anywhere in the world.
Oil and Gas production operations now have a suitable option for easily implementing real time monitoring of field production and operations without the need for costly proprietary field devices, hardware, servers and other IT investment because the solution is designed to run in the cloud. FieldVisor Tablet for Android has been engineered to bring customers into the digital oilfield by making it simpler than ever to get information from the field to the control room providing visibility for production supervisors and field engineers to analyze decline curves, production cycles and vital well data from their mobile devices.
FieldVisor Tablet delivers the essential offline capability that is required for any oil and gas producer that operates in areas outside of cell range. The app aims to empower field personnel and relay real time production information to management but utlizing flexible and customizable two way data exchange. App users can input and view production data outside of cell range and simply sync up changes when an internet connection is avalable.
"The FieldVisor Tablet app sets the standard on usability that customers can now expect. Even field techs with zero computer experience have been able to pick it up and run with it. Our FieldVisor pilot program offers prospective clients a chance to try things out fully configured and has been overwhelmingly successful in adoption of the technology" stated Shawn Cutter, President, Fielding Systems.
An equivalent iOS (iPad) app is awaiting Apple approval and will be launching in the near future.
FieldVisor is an innovative, cloud-based field data capture service for upstream companies in the oil and gas industry that provides E & P's with end to end production operation management where personnel at every level of an organization have access to vital well and production data they need, whenever they need it. As a web-based application, FieldVisor can be accessed from any type of computer with an internet connection, from anywhere in the world. FieldVisor is offered as Software as a Service (SaaS) which provides customers with a comprehensive production operation solution at economical pricing.
About Fielding Systems
Fielding Systems provides cutting-edge web and cloud based Oil & Gas software solutions for midstream and upstream companies of all sizes. The company's software helps producers gain a competitive advantage by optimizing well production, improving well safety and reducing costly downtime. Fielding Systems also offers ScadaVisor, a powerful remote SCADA monitoring and field automation solution for Oil & Gas. For more information or a demo of the software, visit http://www.fieldingsystems.com or call 877.987.4823.
#########
All product and company names herein may be trademarks of their registered owners.
For more information, contact:
Fielding Systems, LLC
877-987-4823
info@fieldingsystems.com