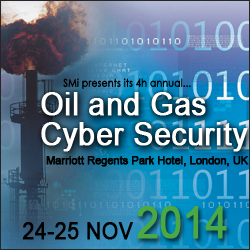 The market for natural gas and oil infrastructure cyber security will be one of the most quickly-expanding areas in the entire cyber security market.- Israel's Homeland Security Home, 2014
London, Southwark (PRWEB UK) 8 July 2014
According to Frost and Sullivan total income in the market will reach 3.75 billion dollars by 2021, compared to 1.5 billion in 2014. The market for natural gas and oil infrastructure cyber security will be one of the most quickly-expanding areas in the entire cyber security market. Cybersecurity is critical to the infrastructure of the oil and natural gas industry. Sophisticated attacks have redefined the security reality for the energy sector, and oil and gas security professionals must come together to learn and network with industry experts. Oil and gas companies mostly have kept quiet about breaches of their computer security systems, but they can learn a lot by sharing information.
(Source: i-hls.com, Rapidly Expanding: Cyber Security for Oil and Gas Facilities, 2014)
Against this backdrop, building on 4 years SMi's 4th annual Oil and Gas Cyber Security conference will address the most pressing cyber security issues facing the oil and gas sector with key presentations and case studies delivered by senior industry decision makers from an array of global oil and gas companies. The two-day programme will build on the success of the 2013 event by discussing recent efforts to bolster protection of highly valuable intellectual property and commercially sensitive information on production, exploration plans and assets through project updates, case studies, live demonstrations, technology sessions, panel debates and networking opportunities.
Why Attend in 2014:

Hear from operators such as Centrica, National Grid, ENi, Petrofac and Tullow Oil
Understand how government organisations can support efforts against attacks
Watch live demonstrations to understand where attacks are targeted
Discuss how social engineering should be the key focus in projecting your networks
What are the latest developments and technology you can use for on SCADA attacks
Recognise new, key, regulations and legislation that affects your operations
NEW 2014 SPEAKERS INCLUDE

Avtar Sehmbi, Head, Information Security & Risk Management, Centrica
Graham Wright, Chief Information Security Officer & Head of Digital Risk, National Grid
Troels Oerting, Head, European Cybercrime Centre, Europol
Chris Gibson, Director, Computer Emergency Response Team (CERT) UK
Mounir Kamal, Incidents Handling and Digital Forensics Manager, Q-CERT
Faheem Siddiqui, Group Information Security Manager, Petrofac
Alessandro Marzi, ICT Manager Security Standards & Architecture, Eni
This is just a snippet of what will be covered. Other speakers will include Nexen Petroleum, Defence Corp, Tullow Oil, University of Oxford plus many more. For more information please visit our website: http://www.oilandgas-cybersecurity.co.uk.
For those who are interested, there is currently a £300 reduced rate for early bird bookings.
--END--
4th annual Oil and Gas cyber Security
24-25 October, 2014
Marriott Regents Park Hotel, London, UK
Sponsored by: Fox IT, LogRhythm and Waterfall Security Solutions
http://www.oilandgas-cybersecurity.co.uk
About SMi Group
Established since 1993, the SMi Group is a global event-production company that specializes in Business-to-Business Conferences, Workshops, Masterclasses and online Communities. We create and deliver events in the Defence, Security, Energy, Utilities, Finance and Pharmaceutical industries.
We pride ourselves on having access to the world's most forward thinking opinion leaders and visionaries, allowing us to bring our communities together to Learn, Engage, Share and Network. We hold events in over 30 major cities throughout the world including London, Paris and Singapore and to date have welcomed over 200,000 participants from 80 countries.
More information can be found at http://www.smi-online.co.uk.