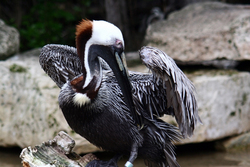 We want to help the area, volunteers, wildlife— basically anyone or anything involved in the clean up process. If our vehicles can help, we want to hear from you
Mount Pleasant, PA (Vocus) June 4, 2010
Mobile Concepts by Scotty urges officials to consider their mobile wildlife cleansing trailers to assist in the Gulf Coast animal clean up.
With the ability to easily move along the Gulf Coast, mobile wildlife cleansing trailers and shipping containers provide wildlife experts and volunteers with safe and easily maneuverable facilities which are manufactured by Pittsburgh-area specialty vehicle manufacturer Mobile Concepts by Scotty.
These trailers or ocean shipping containers are outfitted with work stations that allow the seven steps to the clean up process to be carried out easily before animals are released back into the wild.
Work stations include areas for the following:

physical examination,
warming, feeding and hydration,
containment for 48 hours of rest prior to cleaning,
multiple washes in hot, softened water with a diluted cleaning agent, like Dawn dish detergent,
separate areas for pre and post-cleaning containment and examination
post-release assessment that may require animals to be tagged and monitored.
The size of the trailer or ocean shipping container is based upon the number of work stations and additional equipment needed. Trailers can range in size from 15 to 53 feet and ocean shipping containers from 10 to 45 feet in length. Additional features include heating and cooling systems, set up for generators, exterior fresh and gray water connections, storage compartments, etc.
These mobile units can serve as a training facility for volunteers who must undergo training to participate in oil spill animal clean up.
Mobile Concepts can also provide separate products for crew housing, bunk quarters, mobile commands and hazmat response trailers.
The public is urged to call 866-557-1401 to report animals affected by the oil spill and to provide the following information: the number and type of animal(s), the date and time they were seen, their location, any observations about the animal's behavior and the caller's contact information.
"We want to help the area, volunteers, wildlife— basically anyone or anything involved in the clean up process. If our vehicles can help, we want to hear from you," shared Anne Degre, president of Mobile Concepts by Scotty. Degre can be reached at adegre@MobileConcepts.com or 1-800-783-0213.
Mobile Concepts by Scotty has been building quality specialty vehicles for more than 50 years and are experts at integrating new technology and equipment into their service proven designs. For more information about additional products manufactured by the company, visit http://www.MobileConcepts.com.
###