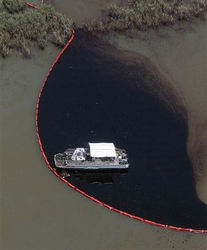 BP has chosen once again to violate its own rules and regulations, leaving fisherman who have no other source of income without pay.
Houston, TX (PRWEB) July 13, 2010
An oil spill attorney representing those impacted by the devastating BP oil spill in the Gulf of Mexico says oversight of the worker claims and payment process is needed. Without it, those working in the Gulf cleanup effort will continue to suffer losses and delays.
On Wednesday, July 7, fishermen employed by BP in the Gulf oil clean-up efforts were expecting their hard-earned checks as promised. But all they received were excuses.
According to agreements between BP and the workers' oil spill lawyers, payments for the work are to be made every 30 days without exception. Unfortunately, BP has chosen once again to violate its own rules and regulations, leaving fisherman who have no other source of income without pay.
After thousands of miles of Gulf Coast waters were closed to fishing following the tragic rig explosion in April, BP hired many of the fishermen left idle by the spill to help with relief efforts. The fisherman—who were eager to get back out on the water that they love so much— accepted the jobs along with a promise from BP that they would receive their pay regularly.
"Because BP designed and oversees the claims process, there are no consequences when it fails to comply with the obligations it owes to the fishermen it hired to assist with the clean up effort," said Ryan Zehl, oil spill attorney at Fitts Zehl. "The absence of any oversight on claims valuation and processing lets BP delay payments and underpay claimants without any legal ramifications."
Fitts Zehl currently represents several individuals and businesses negatively affected by the Gulf Coast oil spill. The firm has invested extensive resources into investigating the situation in the Gulf and maintains a team of lawyers focused directly on this unprecedented environmental disaster.
At this point, BP has not announced when the payments will resume.
"BP is sending these workers out to hazardous areas filled with toxic fumes from the oil and the chemical dispersant (Corexit), then refusing to timely pay them for their work. And because many of these workers have not hired lawyers to protect their rights and ensure that BP complies with its obligations, BP continues to get away with it. This is just one of the many reasons why it's important for workers and others who lost income as a result of the spill to retain a lawyer who understands both the BP oil spill claims process and the Oil Pollution Act," said Zehl.
About the Oil Spill Attorneys at Fitts Zehl:
Fitts Zehl, LLP, is a Houston-based trial law firm representing workers, property owners and businesses that have suffered losses in property value, income or profit as a result of the tragic BP Deepwater Horizon Explosion on April 20, 2010. The firm successfully represented over 100 workers against BP in connection with the 2005 Texas City explosion, has been recognized by major media outlets around the world, and was named one of the five "Power Lawyers and Law Firms of 2009" (click to view article).
###