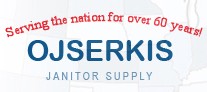 Help us help our friends along the East Coast.
TUCKAHOE, NJ (PRWEB) November 27, 2012
Ojserkis Janitor Supply, a wholesale distributor of restroom and janitorial supplies, is pleased to announce that from now through December 31, 2012 ten percent (10%) of all online profits will be donated to the Hurricane Sandy Relief Effort. As fellow East Coasters, Ojserkis has only one message to its customers:
"Help us help our friends along the East Coast."
As a result of the destruction left by Hurricane Sandy this past October, many in the Mid-Atlantic and Northeast are still struggling to return to a period of normalcy. Thousands have been displaced due to flooding, and the storm could result in ten billion dollars in damages. Although over a hundred million dollars have been donated to relief efforts as of November 9th, donations are still sorely needed.
While Ojserkis was not significantly affected by the hurricane, its president, John Kemenosh, did see firsthand the damage and destruction caused to his friends and neighbors. Mr. Kemenosh is a resident of Ocean City, NJ, an area battered hard by the storm. Additionally, Ojserkis's roots are in Atlantic County New Jersey, which saw major flooding, hundreds of thousands of residents without power and the destruction of many Atlantic City businesses and homes, so it is eager to help and thankful for those who join in the relief effort.
About The Company.
Ojserkis was established over 60 years ago in the Atlantic County area of New Jersey. Since then, Ojserkis has grown to a nationwide company serving all 50 states. The company specializes in janitorial and restroom supplies, paper products, restaurant supplies and floor matting. Ojserkis's main office is located at 1420 Route 50, Tuckahoe, NJ 08250. We can also be reached by phone Monday-Friday 9am to 5 pm Eastern Time at # 800-257-8557 or visit us at: http://www.ojsupply.com.