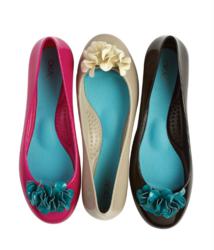 OKA b. ballet flats are waterproof, bacteria resistant, and eco-friendly.
Atlanta, GA (PRWEB) January 23, 2012
OKA b., a leading U.S. manufacturer of eco-chic and recyclable footwear, recently unveiled a first for the company – a closed toe all-season ballet flat. Inspired by simplicity and a return to the classics, the sleek and slim fitting ballet flat is designed with the same craftsmanship and recyclable materials found in the company's signature spa sandals sold in thousands of resort spas and independent retailers worldwide. As with all of OKA b. footwear, shoes in the Ballet Flat Collection are also bacteria resistant, non-slip, durable, and washable, made from a single piece of the company's proprietary Microplast®.
The addition of the ballet flat to OKA b.'s popular sandal and flip-flop collection enables customers to maintain their high standard of relaxed footwear even in colder months. "For years our clients have asked us to create a closed-toe shoe to wear in the spring and fall," says OKA b. Vice President, Kelly Schmidt. "We looked at several possibilities and chose the ballet flat because of its sleekness and versatility while being able to maintain our consumer-friendly price points." Designed in ten new styles and colors - new colors include Camel, Cranberry and Cherry - with an eclectic assortment of adornments such as floral clusters, gemstones and double sided grosgrain ribbons, the OKA b. ballet flat retails at $45.
In addition to creating highly sought after shoes with minimal waste, OKA b. is a company with the greater good in mind. The company recently partnered The American Cancer Society to outfit breast cancer patients with free sandals when they are going through treatment. To date, more than 80,000 women have received a pair of OKA b. sandals since the initiative began in 2010.
About OKA b. Footwear
OKA b. is a division of Okabashi Brands, Inc., a U.S. based manufacturer of eco friendly and spa designed sandals, flip flops and slides, sold in more than 5,000 gift shops and spa resorts worldwide. The company produces shoes that are recyclable, waterproof, non-slip and ergonomically designed with massage foot beds at price points under $45. The parent company, Okabashi Brands, Inc., was founded in 1984 and is also the manufacturer of Okabashi sandals, sold at mass market retailers worldwide. OKA b., the boutique line of spa footwear made for the street, was launched in 2006.
###