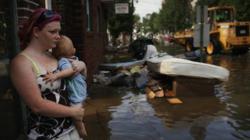 ...the flooding the Oklahoma tornado brought would surely cause mold infestation.
Oklahoma City, OK (PRWEB) May 24, 2013
The Oklahoma tornado left the state with a handful of casualties. And following its ravage, the mayor of Moore, one of the heavily damaged towns, proposed a safe room bill for new houses, said a report from cnn.com. Reaching out to also be of help, My Cleaning Products offered the tornado victims complimentary Molderizer and Safe Shield to counter the looming mold problem.
The disaster, according to the report published on May 22, 2013, caused 24 deaths, My Cleaning Products shared. Ten of those who died were children, it added.
In the wake of the tragedy, MCP said, based on the report, that Moore Mayor Glenn Lewis pushed a bill that would reinforce safe rooms or storm shelters in new homes. It related that the ordinance would apply to single-family and multifamily houses.
My Cleaning Products commented that the bill would surely help prevent deaths in the event that another Oklahoma tornado would appear.
Here is an excerpt from the post Mayor of Tornado-Affected Moore Pushes Bill Requiring Safe Rooms by My Cleaning Products.
"According to the National Weather Service, the tornado was 1.3-mile wide when it hit the town of More. And as it moved, it directly affected an estimated 10,000 people.
Following the disaster, a report said that the mayor of the ravaged city of Moore, Glenn Lewis, pushes a law reinforcing safe rooms or storm shelters in new homes. And as he stated, they would try to get it passed as soon as possible."
As tornadoes can be deadly, safer rooms are indeed needed, MCP additionally commented. However, apart from building them, it stated that victims should also prepare for the coming mold problem.
The company said that the flooding the Oklahoma tornado brought would surely cause mold infestation. And so residents could prevent more troubles from the health risks it could bring, it gave them a tip how to kill mold effectively and safely.
Particularly, that tip is to use Molderizer and Safe Shield. My Cleaning Products asserted that they are the best help in a mold treatment as they are both truly effective and safe. It related that Molderizer kills mold by breaking its DNA while Safe Shield provides protection to prevent re-infestation. And because they are organic-based, it stated that they emit no residue harmful to health or the environment.
To further help, MCP offered Complimentary Molderizer and Safe Shield to the residents. It shared that they could get them at MyCleaningProducts.com.