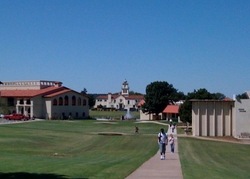 (Vocus) August 25, 2009
Oklahoma Wesleyan University has been listed among America's Best Colleges by both Forbes and U.S. News & World Report. Each ranking is based on different criteria and is highly sought among America's institutions of higher education.
Six Hundred institutions are ranked by Forbes, including national research universities and smaller liberal arts colleges. Forbes ranks OKWU as #155 in the nation. That makes it the highest ranked university (on Forbes' list) of any type in Northeast Oklahoma, and second in Oklahoma, ahead of OU, OSU, TU, UCO and ORU.
According to a Forbes press release, "Traditionally, institutions of higher education have been categorized by their Carnegie classification. U.S. News & World Report and some other rankings use, sometimes with a bit of modification, categories such as National Research Universities or Liberal Arts Colleges. Often a distinction is also made between public and private schools. In its core rankings, we eschew that approach, preferring to list all schools in a single ranking. It is our belief that college students go to school to obtain a bachelor's degree and usually are open to receiving it from different types of institutions."
Forbes goes on to say, "As in 2008, we base 25% of the rankings on student satisfaction with their course instruction. Also, like last year, we base another 25% on indicators of post-graduate employment success, and one-sixth (16.67%) on the likelihood of graduation from college within four years. Last year, we weighted the estimated average four-year student loan debt at one-sixth (16.67%) in the rankings. Given the rising costs, debt levels and associated concerns with this issue, we have increased the weight to 20% this year."
The U.S. News & World Report 2010 edition of America's Best Colleges places OKWU at #9, Best in the West, for baccalaureate colleges and the #7 Best Value in the West. U. S. News & World Report breaks the 1400 colleges and universities into appropriate categories for comparisons. It states, "This 2010 edition of America's Best Colleges uses the Carnegie Foundation for the Advancement of Teaching's 2006 Basic version of its classifications. Carnegie groups American colleges and universities according to their mission as defined by factors such as the highest level of degrees conferred by discipline."
"U.S. News & World Report collapses nine of those Carnegie categories into four main groupings: National Universities, Liberal Arts Colleges, Universities-Master's, and Baccalaureate Colleges. The schools in the Universities-Master's and Baccalaureate Colleges categories are placed into one of four geographic regions: North, South, Midwest, and West."
U. S. News & World Reports defines a baccalaureate college as one that focuses "primarily on undergraduate education, just as the liberal arts colleges do, but grant fewer than 50 percent of their degrees in liberal arts disciplines. At these schools, at least 10 percent of undergraduate degrees awarded are bachelor's degrees. There are 319 baccalaureate colleges, ranked within four regions: North, South, Midwest, and West." The west includes Oklahoma, Texas, New Mexico, Colorado, Arizona, Nevada, Utah, Wyoming, Montana, Idaho, Washington, Oregon, California, Hawaii and Alaska.
Oklahoma Wesleyan University is a four-year, Christian university of the liberal arts and sciences that is accredited by the North Central Association. OWU also receives professional accreditation from the National Council for Accreditation of Teacher Education (NCATE), the Commission on Collegiate Nursing Education (CCNE), and the International Assembly of Collegiate Business Education (IACBE). It is a member of the Council of Christian Colleges and Universities as well as the Council of Independent Colleges and Universities and the Association of Oklahoma Independent Colleges and Universities.
###