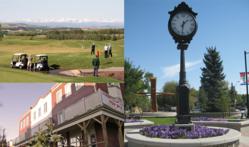 As long as the city is dedicated to maintaining its model of sustainability we should look at the positive impact that the strategy will have on the town.
Okotoks, AB, Canada —
October 22, 2012 (PRWEB) October 22, 2012 -- On September 25th an Okotoks Council decision was made to lift a population cap of 30,000 to support a continuous growth model. Central Alberta has become a major destination for households seeking a better quality of life. The region has seen a tremendous amount of growth over the last decade and projections indicate no slowing in the process. The economy of Central Alberta is strong due to the rich oil sands and other natural resources contributing to the energy sector. Commercial development is also growing and many businesses are moving in due to lower labor costs and overall business taxes. Progressive labor mobility is attracting masses towards the region and many cities and towns have made a commitment to accommodate them. Some held out longer than others and Okotoks, with a current population under 25,000 was one of them, until now.
This growth strategy includes the annexation of land from the neighboring Municipal District of Foothills. However it's not the availability of land that has some concerned. Okotoks has long been a model of sustainability. Its mantra reads "Historical Past, Sustainable Future". Now with the growth strategy in place, Okotoks has to find a way to tap into new resources to supply water to a community that will inevitably grow beyond its existing reservoir. Many feared that a pipeline would be created to draw water from Calgary, putting its model of self-sustenance in jeopardy however the council kept its reputation in tact by excluding this option and thus creating a collective sigh of relief from local onlookers. Instead, the council is dedicated to looking at water conservation efforts such as rain water harvesting and the like. If the council continues down this road, long time members of the residential and business community like Jay Magnussen, of the Jay Magnussen Okotoks Real Estate Team, feel confident that Okotoks can accommodate new growth while keeping its soul.
Jay Magnussen comments "It's no secret that what is happening to the rest of Central Alberta's population would spill into every city and town enjoying the great success of the region. A new growth strategy for Okotoks was inevitable. As long as the city is dedicated to maintaining its model of sustainability we should look at the positive impact that the strategy will have on the town. So far, it seems the city is dedicated to this endeavor and thus we, not just as Okotoks Realtors but as a long standing members of the community, welcome new Okotoks residents with open arms."
Jay Magnussen and his Okotoks Real Estate team serve as unofficial liaisons to the town of Okotoks and in the eyes of the clients that solicit their services when seeking an Okotoks home they can considered an important part of the growth transition. It goes without saying that many businesses are excited about the town's commitment to look towards the future, even if some residents are keeping a watchful eye to ensure that Okotoks continues to shine as a beacon of old-world charm in Central Alberta.
ABOUT The Jay Magnussen Real Estate Team
The Jay Magnussen Real Estate Team is a professional group of Okotoks Realtors and Calgary area real estate agents. This dynamic team is among the top REALTOR® teams serving Okotoks and the surrounding area. Contact our Okotoks Realtors today for commercial or residential real estate inquiries.