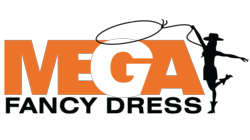 'Off to Oktoberfest in my new dirndl' Kim Kardashian, 2011, Twitter.
(PRWEB UK) 25 September 2012
Oktoberfest is the world's largest fair and attracts over 5 million visitors each year. People flock to the annual festival to experience Bavarian culture, to sample the world-class beer and to dress-up in traditional Bavarian costumes. Mega Fancy Dress gives you information on the 2012 Oktoberfest and presents the latest Oktoberfest fancy dress costumes.
Over the years Oktoberfest has developed into a modern, multicultural event, which people attend from all over the world. In 1811, the beginnings of the festival were more humble when Oktoberfest began life as an agricultural show. By the end of the 19th Century the festival was very different with breweries and bands spicing up the festival to shape it into the event it is today. Each year Oktoberfest tries to improve itself and new for 2012 is The Oktoberfest School where families can go to learn more about the history of the event from over the last two centuries.
In 2010, Kim Kardashian attended Oktoberfest during a trip around Europe. She posted a picture on Twitter stating 'Off to Oktoberfest in my new dirndl'. The celebrity dressed like a traditional Bavarian lady with her hair in pigtails, a tankard of beer in one hand and giant pretzel in the other. With celebrity enthusiasm like Kim's the festival has reached a global audience and inspired many women to dress up in a dirndl – the traditional dress of Bavaria – and head to the event.
Mega Fancy Dress is gearing up to sell more of their Bavarian Beer Man and Lederhosen Lady costumes in the run up to Oktoberfest. Sales director, Natasha Amin says that:
"Our range of Bavarian fancy dress costumes is always a hit in September and October when people are getting ready to attend the extremely popular German festival, Oktoberfest. We get a lot of requests for German themed fancy dress, and more specifically, Lederhosen costumes. Feedback from our customers has been that dressing up creates more fun at events like Oktoberfest and is a good way to get people talking to each other. It is not hard to see why the traditional German fancy dress costumes, like the ones the hosts of Oktoberfest wear, are really popular to put in your suitcase".
To keep the Oktoberfest fancy dress range fresh in 2012, Mega Fancy Dress has added many new costumes and accessories to the collection. For the men, Lederhosen costumes now come in an assortment of colours including: brown, green, orange, yellow, and, of course, the traditional eather look. And for the Ladies, Bavarian dirndl dresses, which combine tradition and fashion, are now available in a variety of colours and designs. To finish the Hansel and Gretel look and make your traditional costumes complete there are plenty of fancy dress accessories to choose from with Tyrolean hats, beer printed braces and Heidi wigs all available now. Popular influences on Oktoberfest attire are the best-selling children's storybooks 'Heidi' and more recently Sacha Baren Cohen's character in 'Bruno' who dresses up in some outrageous yellow lederhosen. For those looking for an outfit to raise a smile then Mega Fancy Dress has the Men's Bruno Lederhosen Fancy Dress Costume in stock, which only the very brave will dare to wear at Oktoberfest.
Oktoberfest continues to inspire adults to dress up in traditional Bavarian fancy dress costumes each year. The amazing history the event is steeped in - spanning two centuries - creates an atmosphere that people remember, tell their friends about and want to return to. If you are heading to the biggest fair on earth, then make sure you do it in style and grab a pair of Lederhosen or a sexy dirndl -to rival Kim Kardashian- from a fabulous selection by Mega Fancy Dress.
About Mega Fancy Dress
Mega Fancy Dress is a UK based company that provides Fancy Dress Costumes and accessories to online customers. Since 2006, Mega Fancy Dress has consistently offered the best quality fancy dress costumes at some of the most competitive prices on the market. Mega Fancy Dress is a Top 5 Google UK searched online fancy dress company.
Follow Mega Fancy Dress:
On Twitter: @ megafancydress
On Facebook: megafancydresscostumes
For more information visit http://www.megafancydress.co.uk or call +44 (0)845 634 4193