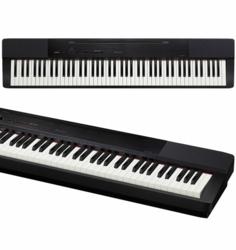 North Berwick, ME (PRWEB) October 02, 2012
Portable Piano Outlet is a full-service musical instrument provider that has served the music industry since 2011. Now, in addition to offering superior products and services ranging from digital pianos to fretted instruments and audio equipment, they will be offering a month-long store-wide sale in observance of Oktoberfest.
Portable Piano Outlet's decision to offer vast store-wide savings was influenced by the 179th Annual German celebration known as Oktoberfest.
"We have experienced tremendous growth," states Crystal Normand, owner and founder of PortablePianoOutlet.com, who took a 24-year "break" from playing the piano herself. "What better way to show our appreciation than with massive markdowns and discount coupons to say thank you!"
"The German festival isn't just about beer, although that is certainly a big part of it," affirms Normand. "It also boasts family days, a carnival with rides, parade, and of course traditional German music." Music consisting of accordions, woodwinds, and brasswinds are played during the day until 6 pm, and then rock, pop and dance music until closing.
Visitors to PortablePianoOutlet.com will enjoy anywhere from $15 off a purchase of $100 all the way up to $100 off purchases of $600 or more.
In addition to offering musicians the same level of quality and superior service that current customers receive, anyone interested can sign up for the free monthly newsletter to receive valuable coupons and announcements about upcoming contests and special sales.
Anyone interested in learning more about the special promotions at Portable Piano Outlet, or to see their numerous musical instrument lines, can visit PortablePianoOutlet.com for more information. One can also find a variety of other ideas included in the catalog, consisting of sheet music, musical gifts, keyboard bags, benches, children's instruments, band and orchestra instruments, and all related accessories.
Portable Piano Outlet, one of the nation's leading up-and-coming musical instrument sales companies, provides a one-stop resource for musicians from the very beginner to the seasoned professional. PortablePianoOutlet.com is based out of North Berwick, Maine and is fueled by the love of music. It was founded in 2011 and is a one-stop resource for the musical needs of any piano enthusiast from the very beginner to the seasoned performer.