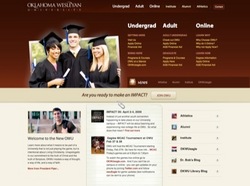 We're excited the homepage is a success. Our goal was to find a way to show a lot of information in as clean of a way as possible while making it as dynamic as possible
Ferndale, WA (Vocus) July 31, 2009
Oklahoma Wesleyan University has won the People's Choice Award for the best homepage design. Winners of the 2nd Annual eduStyle Higher-Ed Web Awards were announced July 21st at the eduWEB Conference in Chicago. OKWU became a finalist in April 2009, distinguishing itself among 2000 nominations from around the country. Twenty categories recognized the most innovative and exciting developments in key areas of higher education web development. American University's site, TERMINALFOUR, won the award for best overall web site.
OKWU.edu, also nominated for Best Social Networking/Integration, began an entire site redesign sometime ago which is to be launched in August by Elevatorup, based in Holland, MI. "We are very aware that the way we are now communicating with students, alumni and the general public is most often taking place on the web. So we felt it was important to redesign our website to ensure that it was easy for users to know who we are without having to go very deep into our site," said Marci Piper, web producer at OKWU. "The great team at Elevatorup led by founder, Aaron Schaap, has created a website for OKWU that really reflects who we are. We have worked with them for several years because they understand our desire to speak clearly and boldly about who we are, as well as, our entrepreneurial spirit in creating and incorporating new communication tools, like Twitter for example, in ways others are not."
"We're excited the homepage is a success. Our goal was to find a way to show a lot of information in as clean of a way as possible while making it as dynamic as possible," said web designer Aaron Schaap. "We are also proud that OKWU.edu made the list of 25 of the Best Websites for Educational Institutions at Vandelay Design's site.
EduStyle.net is a web design gallery which is dedicated to higher education websites. It is inspired by higher education web design professionals who submit, review, and comment on website practices they think are instructive for everyone. In the last year and a half over thousands of higher-ed websites have been submitted to the gallery, and more than 10,000 visitors come to eduStyle each month.
Oklahoma Wesleyan University is a four-year, Christian university of the liberal arts and sciences that is fully accredited by the North Central Association. OWU also obtained professional accreditation with the National Council for Accreditation of Teacher Education (NCATE), the Commission on Collegiate Nursing Education (CCNE), and the International Assembly of Collegiate Business Education (IACBE). It is a member of the Council of Christian Colleges and Universities as well as the Council of Independent Colleges and Universities and the Association of Oklahoma Independent Colleges and Universities.
# # #