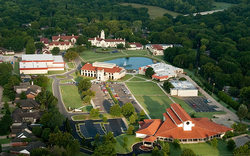 The heart of OKWU's Annual Fund rests in the four P's of our mission – the Primacy of Jesus Christ, the Priority of Scripture, the Pursuit of Truth and the Practice of Wisdom.
Bartlesville, OK (Vocus) May 21, 2010
Oklahoma Wesleyan University has already raised more than $400,000 toward its Annual Fund goal of $450,000 for the 2010 fiscal year due to the generous support of donors across the country as well as matching gifts from corporations like ConocoPhillips, IBM and Omnova.
Dr. Randy Thompson, V.P. for Institutional Advancement says, "We are so blessed to have received over 1,000 gifts since July 1, 2009. We would welcome additional support. Online donations can be made at http://www.okwu.edu/support/annual-fund/ or by mail at Office of the President, 2201 Silver Lake Road, Bartlesville, OK 74006."
Thompson goes on to say that "The heart of OKWU's Annual Fund rests in the four P's of our mission – the Primacy of Jesus Christ, the Priority of Scripture, the Pursuit of Truth and the Practice of Wisdom."
Jim Goings, CFO of OKWU adds, "Virtually no aspect of OKWU is left untouched by Annual Fund support. It continues to be one of the University's most significant sources of support, and because Annual Fund gifts are typically unrestricted, they can be directed to areas with the greatest need—and the greatest potential for impact. That's why the financial support and flexibility afforded by unrestricted gifts to the OKWU Annual Fund are so important."
OKWU is an institution that supporters can be proud of, for its academic, fiscal, spiritual and athletic accomplishments:

Employment impact of over 200.
Enrollment growth of 52% over seven years with corresponding growth in revenue.
Economic impact of $26,000,000 annually.
A 4-year Liberal Arts University recognized as a US News and World Report Top Tier Best and Forbes America's Best Colleges.
Over 30 different majors and over 20 different minors in the liberal arts and applied sciences areas.
Professional Studies degrees for working adults in business administration, church administration and leadership, teacher certification, and nursing.
o Provides degree completion with marketable business and management skills.
o Provides MBA for those seeking managerial and administrative positions in business, industry, government, and non-profit organizations.
o Provides BSN degree completion for RNs and an MBA in Nursing Management.
o Provides adults with empowering, faith-based learning, needed for effective church leadership
o Provides an opportunity for degreed professionals to become certified teachers in Oklahoma

Articulation agreement with Tri-County Tech.
$1.8 million in scholarship money passed on to students annually.
Over 100 OKWU graduates teaching in public and private schools.
2009 NAIA Division II National Basketball Championship.
Community service to Big Brothers-Big Sisters, MUTUAL, K-Life, The Rock, youth groups and area churches.
Multi- million dollar building campaign successfully completed for construction of Janice and Charles Drake library, Lisa and Mark Roberts Fitness Center and renovation of La Quinta.
All campaign capital expended with local architects and builders, thus keeping the money in the local economy.
There are many more reasons for public support of Oklahoma Wesleyan University. And, according to Dr. Thompson, "There are an equal number of reasons for OKWU to be proud of its supporters. They are wonderful persons of quality, faith and character. We would be so proud to have new friends and to hear from old friends."
Oklahoma Wesleyan University is a four-year, Christian university of the liberal arts and sciences that is fully accredited by the North Central Association. OKWU also receives professional accreditation from the National Council for Accreditation of Teacher Education (NCATE), the Commission on Collegiate Nursing Education (CCNE), and the International Assembly of Collegiate Business Education (IACBE). It is a member of the Council of Christian Colleges and Universities as well as the Council of Independent Colleges and Universities and the Association of Oklahoma Independent Colleges and Universities.
###