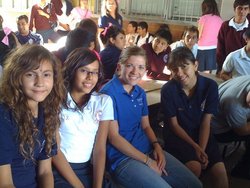 All the kids got to hear the gospel of Jesus Christ and a lot of the older kids got to learn about sexual purity and how God views sex
Bartlesville, OK (Vocus) November 22, 2010
This was the third year for Oklahoma Wesleyan University's nursing students and faculty to give of their time, love and energy to a group of students at Lydia Patterson Institute in Texas.
Lydia Patterson Institute (L.P.I.) is a Methodist school that serves a predominantly Hispanic population. It strives to serve its students in an environment where faith and knowledge intertwine. Because this school is on the border of El Paso, TX, just north of Mexico, many of its students who live in Mexico must cross the border daily.
Ten of OKWU's nursing students were able to serve students by making presentations addressing the issues of abstinence, diabetes, overall wellness nutrition, exercise and first aid. They also had the opportunity to give students check-ups while teaching them about general health and the love of God.
According to Becky Le, Dean of the School of Nursing, "They were able to examine approximately 200 students (including 110 children) with vision problems, one child with scoliosis, 11 children with hearing problems, nine children with general health concerns (growth, heart rate and rhythm, and blood pressure) and one child with high blood sugar."
"All the kids got to hear the gospel of Jesus Christ and a lot of the older kids got to learn about sexual purity and how God views sex," said Donovan White, sophomore. "It was amazing. God blessed this trip in a special way."
Lisa Lord, junior, led worship during chapel and daily devotions. "It was awesome seeing how the gospel worked," Lord said.
Le agreed saying, "God was there. It was palpable."
Brittanie Seay, sophomore, gave a demonstration portraying how people cannot rely on their own strength, Instead, having a relationship with God will give an individual the needed strength.
While in El Paso, the students also visited a homeless shelter housing 20 women and 45 children. They were able to fellowship and pray with the women as well as play with the kids living in the shelter. "The women really liked talking to us and sharing about their problems," said Kristen Kelley, sophomore.
While nursing students poured their hearts into their time serving, the love was returned in full force. "They had so much love for everybody," said Kelley. The gratitude shown was matchless.
"They didn't know us, but they had us in their homes and made food for us," said Seay. "[Their kindness is] what makes it all worth it."
Oklahoma Wesleyan University is a four-year, Christian university of the liberal arts and sciences that is fully accredited by the North Central Association. OKWU also receives professional accreditation from the National Council for Accreditation of Teacher Education (NCATE), the Commission on Collegiate Nursing Education (CCNE), and the International Assembly of Collegiate Business Education (IACBE). It is a member of the Council of Christian Colleges and Universities as well as the Council of Independent Colleges and Universities and the Association of Oklahoma Independent Colleges and Universities.
###