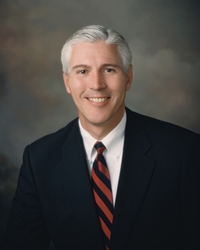 I am proud to be the president of one of those very rare universities that engages in the unapologetic and open pursuit of a way, a truth, and a life grounded in something more stable than the ebb and flow of human opinion and the shifting sands of what is 'politically correct,'
Los Angeles, CA (Vocus) July 9, 2009
For nearly a decade, Dr. Everett Piper has been quietly doing his job as president of one of the region's top faith-based Universities, Oklahoma Wesleyan University, focusing all of his efforts on improving the quality of education for his students. But a growing awareness that national trends far beyond his University's campus could pose a threat to his and other faith-based institutions has caused Piper to reach for new platforms to speak out on behalf of the University-and the students he cherishes.
One such platform is Politicalmavens.com which has welcomed Piper as a Senior Fellow and blogger and for whom Piper will provide regular commentary on current events including politics, education, media and issues of faith. Piper has also begun writing a book, tentatively titled "Why I'm a Liberal-and Other Conservative Ideas."
Binyamin L. Jolkovsky, founder and Executive Editor of Political Mavens said of Piper's addition to the site:
"We are excited to have Dr. Everett Piper as a contributor to our blog. Everett brings a wealth of experience to the table. He has a genuine concern for the future of our nation and for building up the next generation of young leaders. More importantly, his passion on this topic drives him to action. Political Mavens.com has always supported writers who pursue a positive change in their government and society."
Piper's first blog-which is also the theme of his book- addresses the need to revisit the true meaning of the word "Liberal" as it relates to politics, religious ideology and higher education. He argues that a liberal education must be grounded in the conservation of reality and truth.
"I am proud to be the president of one of those very rare universities that engages in the unapologetic and open pursuit of a way, a truth, and a life grounded in something more stable than the ebb and flow of human opinion and the shifting sands of what is 'politically correct,'" notes Piper. "I'm looking forward to sharing some of these ideas with the world beyond our campus, but my ultimate goal is to bring attention to the kind of ideas that are shaping the character of our students here as we send them out into the world to do good things."
To read Dr. Piper's writings on Political Mavens, please go to: http://www.PoliticalMavens.com/everettpiper
In addition to his writings on Political Mavens, Piper has recently launched his own website, where his articles and links to recent media appearances are available at http://www.EverettPiper.com. Piper is also a regular contributor at http://www.BullyPulpit.com.
To learn more Dr. Piper, please visit http://www.EverettPiper.com
To learn more about Oklahoma Wesleyan University, please visit: http://www.okwu.edu
To schedule an interview with Dr. Everett Piper, please contact Toni Burge at: Toni(at)mjmgroup(dot)com
###