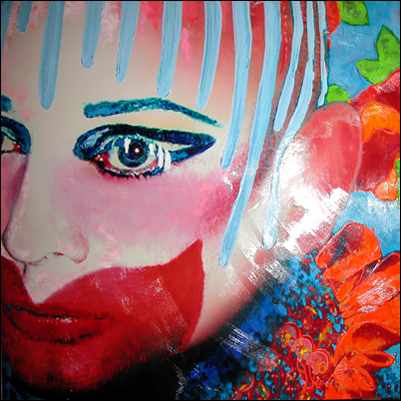 you know you've made the scene when Olan shoots your puss
New York, NY (PRWEB) June 20, 2006
The 'divas' of New York nightlife to be included in the latest works of Olan entitled 'metamorphosis', an exploration by the artist on the perceptions of feminine beauty, exclusively at Ward-Nasse Gallery, 178 Prince Street, New York, for the entire month of July with a 'meet the artist' reception on July 8th from 7 until 10 PM. RSVP with Ward-Nasse Gallery at 212.925.6951. Works can be previewed at the artist's website at http://www.lipstickchic.com.
The show will include larger mixed media works of such notables as Anne Hathaway, Courtney Love, Kelly Osbourne, RuPaul, Drag performers Lady Bunny and Lipsynka, supermodels Linda Evangelista, Erin Wasson and Stephanie Seymour, Singer Boy George, actress Pauley Perette of NCIS along with works of television and news personailites, homeless and working women, transsexuals, female impersonators, androgynous males and even mythical mermaids in an effort to explore the societal perception of feminine beauty in art reflecting individuals who create that allure, some by the sheer fact they are born female and others who create the feminine iconic illusion. All of the artists works are created from his own photos of his subjects through digital art combined with hand-painting on canvas.
The show is a presentation by Olan to remind people to 'simply look at one another' in a society where Olan feels the now '5 seconds' of fame and pop stardom rules society through mass media and a societal "been there, done that attitude." This is another project by Olan like his tribute to local bank tellers at Chase Manhattan in New York written about by the New York Times in an article entitled "Tellers in Tangerine" published in 2003 where the artist created art about a segment of society asking the viewer to simply "look more closely at the individual standing beside you." Olan adds when further describing his show, "the color of life is difference. Everybody doesn't have to look and think alike. I say try to remember -- the more you judge, the less you love."
Olan's "Cube" series (incredibly detailed 5x5x3 inch canvas cubes imaged and hand-painted on all sides) include some of New Yorks most infamous 'if not famous' night life personalities. Cubed works done in Olan's incredible signature pop genre include a red carpet guestlist. Included in the show are Joselyn Wildenstein, 'Real World' Alumni Dan Renzi, 'Queer as Folk' actor/director Peter Paige, 'Sex in the City' writer Candace Bushnell, 'My Big Fat Greek Wedding' Nia Vardalos, Courtney Love, Boy George, singer Rufus Wainwright, door personality Kenny Kenny, transsexual Amanda Lepore, Sophia Lemar, Designer Richie Rich, Flawless Sabrina, Kevin Aviance, Gazelle, Miss Understood, actor Alan Cumming, actress Pauley Perette, Ajoshua, Scooby, handbag designer DRES, Heda Lettuce, Patrick McDonald, Stephen Knoll, Candis Cayne, Traila Trash, Suzanne Bartch, Robin Byrd, Lady Bunny, Miss Understood, Lipsynka, Michael Musto, Gaisha, Patrick McMullan, and designer Patrica Field.
These cubes, however, celebrate all ages and types of feminine beauty with works created by the artist of daytime television superstar Joy Behar from the 'The View' and America's own diva of household advice Heloise in pure pop art fashion. Finalizing the exhibition dancers become art with cube works by Olan of American Ballet Theater dancers Irina Dvorovenko, Stella Abrera, Gillian Murphy, Michele Wiles, Ethan Steifel, Maxim Beloserkovsky, Carlos Acosta, Sascha Radetsky, Gennadi Saveliev and retired prima ballerina Susan Jaffe are also included in the show. Metamorphosis truly encompasses a wide array of subjects from different ways of life because, as Olan puts put, "When we are born, we don't come into the world with a predetermined profession.....yet."
The reception on Saturday, July 8th is expected to have a wonderful packed mix of suits, art buyers, club kids, artists and celebs that Olan's art show openings have come to be known for since his last exhibitions at Plaid, Kanvas Gallery Bar and Ward- Nasse which received coverage by wireimage.com, NY Arts Magazine and Next Magazine (who compared one of his openings to that of Disco 2000 when describing the patrons.) A word to the wise for an Olan opening, BRING A CAMERA! The show will run for the entire month of July at Ward-Nasse Gallery in Soho.
New York Blade stated in a February 2004 article entitled 'Shooting Party' that, "you know you've made the scene when Olan shoots your puss," refering to Olan's art which is created from his own shapshots of people.
When asked about including men in this art show exploring the perceptions of the female iconic illusion of beauty, Olan added, "I had to give the show some perspective, because really - What are women without men?"
Olan's cube series works are priced around 4-500.00 while his larger works in the show are around 4 to 5,000. Other upcoming events concerning Olan's art include one of his works on display on an upcoming episode of 'Dinner Takes All' airing in late July in the home of humanitarian and socialite Tracy Stern of Salon Tea, who will also be hosting a 'Tea' in December presenting Olan and his work to the National Arts Club in New York. Olan will also be included in a top 500 artists and their websites listing book associated with NY Arts Magazine which is scheduled to be sold at Barnes & Noble. "Thank goodness for the wonderful patron's like Tracy Stern..patrons are the golden threads woven into art's tapestry throughout the centuries of art's history that preserve the new talent in each century," said Olan of his sponsor, Tracy Stern, for the upcoming Tea in December.
# # #