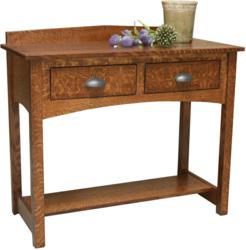 Once you've seen Amish furniture in-person, you will become a fan for life!
Shipshewana, IN (PRWEB) October 15, 2012
The new Old Century style from Brandenberry Amish Furniture features two Amish furnishings, the Old Century Sideboard and Old Century End Table, which each boast expert craftsmanship. The Old Century style possesses the timeless beauty that comes from centuries of furniture craftsmanship expertise and adds a great accent to all dining room furniture.
The Old Century style is a unique blend of two styles: Mission and Traditional. The Mission style was popularized in the early 1900's by American craftsmen who drew inspiration from the Spanish Missions built by Christian missionaries in the Western United States. Since then, Mission style furniture has boasted great popularity and inspired a variety of sub-styles. It is easily recognized for its mortise-and-tenon joints, wood slats and straight angles. The Traditional style finds its roots as an offshoot of early Shaker style furniture and is noted for its simplicity and lack of design accents.
The Old Century Junior Sideboard, like all of Brandenberry's furnishings, is built by Amish craftsmen using solid wood from the Midwest. From the wood selection process to the construction, sanding and staining, Brandenberry's builders work hands-on with the furnishing. Because of this, no piece is ever exactly the same. Also, customers can select from a variety of custom options. In fact, if you browse Brandenberry's online store catalog, you may come across a few custom pieces that were built collaboratively by customers and builders.
Visit Brandenberry Amish Furniture in Shipshewana, Indiana to seem more of their furnishings for the home. As sales representative Floyd says, "Once you've seen Amish furniture in-person, you will become a fan for life!"
About Brandenberry Amish Furniture:
Brandenberry Furniture opened its doors in 2008. The Brandenberry Furniture concept allows customers to design the furniture of their dreams…to explore the rich woods and stains that only nature can offer. Nothing matches the feel, the smell and the weight of hickory, oak, cherry, maple…real woods that come to life in an Amish handcrafted piece. They are meant to last a lifetime and beyond.
Whether a customer's favorite style is Mission, Traditional, Modern or something in between, if Brandenberry Furniture doesn't carry it, their craftsmen will build it to specification.
Brandenberry Furniture offers everything from bedroom and dining collections to home accessories, patio and exclusive furniture pieces. Browse our easy-to-use website with detailed photographs and information, and you'll find furniture categorized by room (including family room, dining room, bedroom, office, children's) as well as by wood species (including oak, hickory, cherry, elm, maple, pine and cedar) and style.