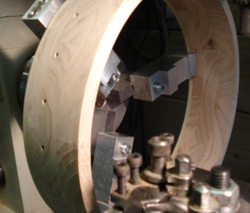 The old-time openback banjo never fails to make people smile and feel at ease
(PRWEB UK) 9 May 2012
Old-time open-back banjos are attracting even more interest amongst new players than resonator-back bluegrass style banjos, according to leading UK banjo retailer Banjos Direct.
"Online and offline sales, phone and email enquiries, and responses from customers at shows, all indicate a revival of interest in the openback old-time banjo," says Banjos Direct founder and CEO Simon Middleton.
The banjo shop boss attributes the interest to the particular character of the openback banjo, which he describes as "friendly and accessible".
"To some people, particularly those coming to the banjo for the first time, the resonator-back, bluegrass style instrument, can seem a bit intimidating and technical. Some of our customers are a bit fearful at first that they might drop the instrument: which is partly to do with the weight," said Middleton.
The openback style banjos are lighter and, according to Middleton, seem to be more inviting to first timers.
"Of course we talk to our customers about different styles of banjo playing and we always take care to show them that the bluegrass banjo is nothing to be afraid of: but that relatively simple old-timey instrument and its particular tone, never fails to make people smile and feel at ease."
Sales of bluegrass banjos still outstrip the oldtime openback instruments overall at Banjos Direct, says Middleton, but the company is increasing its range of openback instruments in order to satisfy demand.
Part of the company's expanding range is their own Islander OB-01, the first of a new range of banjos which are the only production banjos being made in Britain. The OB-01 is an ash block rim openback with a carbon reinforced maple neck.
The Islander OB-01 will be available from August 2012 and will retail at £1495.00, exclusively at Banjos Direct.
COMPANY INFORMATION
Banjos Direct is the UK's fastest-growing specialist banjo retailer and manufacturer, leading the renaissance of interest in the banjo amongst players of every age and background. The Norwich-based company is the UK's leading stockist of USA banjo brands GoldTone and Nechville, and also stocks instruments by Barnes & Mullins, Pilgrim and Tanglewood. It has recently announced its move into banjo manufacturing with the launch of the all-British made Islander OB-01.
Founder and CEO of Banjos Direct, Simon Middleton, is also frontman of English-Americana band The Proposition, whose debut album King Snake, Devil Shake was released in March this year. Middleton is the author of several books on branding and marketing, including 'Build A Brand In 30 Days' and the new guide to personal branding 'Brand New You'.
Find Banjos Direct at http://www.banjosdirect.co.uk.
Email: info(at)banjosdirect(dot)co(dot)uk
Phone: +44 (0) 1603 305800