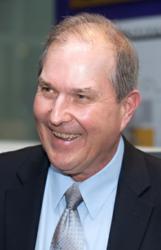 Our philosophy is: We want to serve clients in the best possible manner. -- Mike Pugh
Harrisonburg, VA (PRWEB) February 06, 2013
Old Dominion Realty is proud to announce Mike Pugh, Broker, has been named the 2012 Business Person of the Year by the Harrisonburg Rockingham Chamber of Commerce. In a challenged national real estate market, Mike Pugh, owner and principle broker of Old Dominion Realty, did not shy away from a slowing market. Instead, he moved forward. He diversified and expanded his company with the focused goal to better serve clients.
Pugh's forward thinking was just one reason he was recently honored by the Harrisonburg Rockingham Chamber of Commerce which named him the 2012 Business Person of the Year.
Pugh led Old Dominion Realty into growth by becoming part owner of Bankers Title-Shenandoah, a Virginia bank-owned corporation that provides title services. In 2009, Old Dominion Realty became a shareholder in VBS Mortgage, an addition which permits Old Dominion Realty to provide mortgage services to clients.
Old Dominion Realty, serving Virginian communities of the Shenandoah Valley and eastern West Virginia, is "unmatched" in resources afforded to its clients. It is the only full service real estate firm in the area which provides mortgage and title services.
"Our philosophy is: We want to serve clients in the best possible manner," said Mike Pugh.
By becoming a "one stop shop" for real estate buyers, Old Dominion Realty not only guides a purchaser through a residential or commercial transaction, but assists with mortgages, titles and closings. The company's other services include auctions, appraisals, property management and relocation assistance.
Pugh said by pulling the company's resources together, Old Dominion Realty can better serve their clients' needs.
In the last four to five years of the real estate downturn, Old Dominion Realty has positioned itself to guide clients through short sales or providing advice on avoiding foreclosure.
"It's a difficult time," said Pugh. "It's a rewarding time." The company has received numerous letters from clients who were helped by Old Dominion Realty's expanse of services during these challenging economic times, he added. "That's why we are here, to help our clients."
Pugh has been a licensed broker since 1976. He began working for his father, the late Clyde Pugh, who founded Old Dominion Realty in 1962.
"When I became a broker, my father had a heart attack," Pugh said. He was forced to step into the leadership position of the company.
"The company consisted of six agents, one helpful secretary and one office," Pugh recalled.
"It's a family company," said Pugh, who credits his father and family.
The company has grown over the last 50 years. Today, Old Dominion Realty features more than 85 agents and six regional offices with 11 employees.
Pugh is not only an honored business man, he is respected for his leadership in the community through his countless volunteer hours serving on boards of directors.
"Pugh is known for his steady demeanor," said Steve Turner of the Daily News Record in Harrisonburg.
Pugh has served as a member of the board of Harrisonburg Rockingham Chamber of Commerce. He said the local chamber of commerce is a wonderful asset to Old Dominion Realty. He said working with a chamber opens the door to personal relationships that last for years.
He has served as the past president and current board member of the Harrisonburg Rockingham Association of Realtors. He is also a member of the Greater Augusta Association of Realtors, the Charlottesville Area Association of Realtors, the Lexington, Buena Vista, Rockbridge Association of Realtors, the Metropolitan Regional Information System, the Massanutten Association and the Potomac Highlands Board of Realtors.
Currently Pugh is a director for Farmers & Merchants Bank, a director at VBS Mortgage, and board member at Bankers Title Shenandoah.
Pugh was the past director at Bridgewater Retirement Community Inc. and Bridgewater Healthcare Inc. where he served on the planning committee for a new state-of-the art Alzheimer Unit. He has been involved with charity projects with the Salvation Army, Toys for Tots and the American Cancer Society, just to name a few. But a project closest to his heart is the Project Healing Waters. Pugh, affectionately known as "the cook", is a volunteer at the skeet shooting and fly fishing weekends at Mossy Creek to benefit wounded soldiers.
Old Dominion Realty is a full service, real estate firm with six office locations across Virginia and West Virginia. For more information about Old Dominion Realty, visit their website at http://www.OldDominionRealty.com.