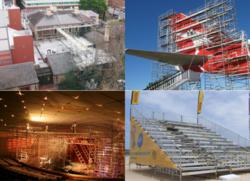 Customers look to us for specialised systems and often they don't know what they need, particularly if the project is somewhat unique or difficult. This is where our team shines.
Revesby, New South Wales (PRWEB) July 30, 2012
With over 25 years experience, Oldfields Advance Scaffold are widely renowned for being the leading supplier of aluminium mobile towers and scaffolding to both domestic and commercial customers. Their specialised project arm has reported an ever-growing demand for their expertise, innovative advice and high quality products from companies right across Australia who need to complete a diverse range of residential and commercial projects.
General Manager, Mr Maurice Rivera believes that the reasons why so many companies are seeking out Oldfields Advance Scaffold each and every week for help with their projects are simple.
As Mr Rivera explains, "Specialist projects are not something that everybody does in this industry. Customers look to us for specialised systems and often they don't know what they need, particularly if the project is somewhat unique or difficult. This is where our team shines."
"Our team of scaffolding experts continue to use their depth of knowledge to produce high-end solutions for our growing number of project customers and as such, if we ever need to enter into a quoting or tender process, our proven track record, years of experience, specialist advice and cost-effective solutions see us come to the fore."
Currently, Oldfields Advance Scaffold have a range of projects underway and have previously been linked to some of Australia's biggest brands including leading Australian airline, Qantas.
"We were extremely pleased to have been able to lend our scaffold hire expertise to Qantas for the project nicknamed 'The Big Red Tail', which involved re-painting the tail on the Qantas Founders Museum's Boeing 747 aircraft exhibit," remarks Mr Rivera.
"As you can appreciate, the tail on a Boeing 747 is huge as it measures up to half the size of a football field. Being such a difficult shape and height, the project presented plenty of challenges to those co-ordinating it, but was made easier by the solution we provided which included more than 20 vertical metres (65 feet) of high-quality scaffolding support."
Oldfields Advance Scaffold have also been called upon for providing a swing stage to perform maintenance on the big screen at Queensland's Skilled Stadium, event staging at several high calibre events, beach staging for the Iron Man Competition, stadium seating for the Australian Baseball League Season, and many more unique and challenging projects.
They have also been involved in more delicate areas, such as providing the scaffolding platform for professional painters to revive the Regent Theatre roof. As Mr Rivera points out, this historic theme also continues with one of their current projects.
"We're currently undertaking a major project at Ayers House in Adelaide. Our company is extremely excited to be involved in this, as Ayers House is considered to be one of the finest examples of Colonial Regency architecture in Australia and remains the largest and best preserved of the houses designed by George Strickland Kingston."
"Our project specialists were brought in to advise on the best scaffolding solution and the result of our team's advice has seen the installation of our Aluminium Modular Systems Scaffold to assist them to complete refurbishments on this historical Adelaide building."
Oldfields Advance Scaffold are committed to leading the leading the way as Australia's chief provider of scaffolding solutions and their project team is always excited to be able to bring together the best value scaffold hire equipment with guaranteed reliability and expert advice for their growing number of project customers right across the country.
For more information about previous and current Oldfields Advance Scaffold projects or how to contact them for more information, visit http://www.oldfields.com.au/scaffolding
About Oldfields Advance Scaffold
After operating in the industry for over 25 years, Oldfields Advance Scaffold can boast to be Australia's leading manufacturers and wholesalers of Aluminium Mobile Scaffold Towers and other scaffolding products.
Oldfields Advance Scaffold is part of the larger publically listed Oldfields Holdings Group, which was established in 1916.
With locations nationwide, they are committed to providing the best value scaffolding equipment solutions for both hire and sales, including a full range of innovative, high quality, safe, reliable products and services to cover all scaffolding needs.