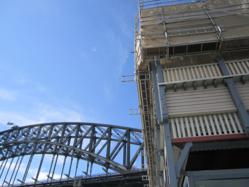 Oldfields Advance Scaffold has announced significant first quarter results, which includes an eight per cent rise in sales against last year.
Revesby, New South Wales (PRWEB) October 15, 2012
For over quarter of a decade, Oldfields Advance Scaffold have had to endure peaks and troughs in the Australian economy to remain the leading supplier of aluminium mobile towers and scaffolding in the domestic and commercial arenas. Despite a dramatic fall in the Victorian housing market and extremely challenging economic conditions nation-wide, Oldfields Advance Scaffold has announced significant first quarter results, which include an eight per cent rise in sales against last year and an increase of ten per cent against budget for gross margin.
As General Manager, Mr Maurice Rivera, explains "The market for scaffolding Melbourne-wide is particularly tight at the moment and consumer confidence is definitely down across the country due to the volatile economic conditions. However our company has been buoyed by each of our offices continuing to return strong sales figures."
"Due to our years of experience and proven track record providing specialist advice and cost-effective solutions, we remain the first choice for consumers and companies looking for high-quality scaffolding right across the country."
While the retail sector has taken a hit this year, the first quarter has included the successful completion of multiple high-profile commercial assignments in Victoria for Jacaranda, RMIT, Flemington Racecourse and within the flourishing Docklands precinct.
The other Eastern States' offices of the leading scaffold manufacturers have also been buoyed by ongoing commercial success, as large builders and commercial entities continue to seek out the Oldfields Advance Scaffold experts for specialist projects.
"The Oldfields Sydney office has recently embarked on a project in the Southern Suburbs on the beachside residence of well-known footballer, Tim Cahill. Our local scaffolding experts have also done a sizeable overhang scaffold on the famous Pier One, adjacent to the iconic Sydney Harbour Bridge," reveals Mr Rivera.
"In the Gold Coast, we've also become heavily involved with the well known local company Mt Cotton and continue to provide swing staging throughout the region."
Promising sales figures from each location demonstrates Oldfields Advance Scaffold's commitment and ability to weather the storms created by dips in the local economy.
As Australia's chief provider of scaffolding solutions, their aim is to continue to provide their depth of knowledge and high-end solutions to a growing number of project customers nation-wide who are in need of specialist systems, guaranteed reliability and expert advice.
For more information about Oldfields Advance Scaffold projects or how to contact them for more information, visit http://www.oldfields.com.au/scaffolding
About Oldfields Advance Scaffold
After operating in the industry for over 25 years, Oldfields Advance Scaffold can boast to be Australia's leading manufacturers and wholesalers of Aluminium Mobile Scaffold Towers and other scaffolding products.
Oldfields Advance Scaffold is part of the larger publicly listed Oldfields Holdings Group, which was established in 1916.
With locations nationwide, they are committed to providing the best value scaffolding equipment solutions for both hire and sales, including a full range of innovative, high quality, safe, reliable products and services to cover all scaffolding needs.