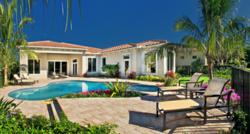 I think my win at the 2010 British Open helped me get my game to where it is at the moment
Palm Beach Gardens, Florida (PRWEB) May 08, 2012
Louis Oosthuizen is on a hot streak. The Old Palm resident, who plays golf on both the PGA Tour and the European Tour, just followed his second-place finish in the Masters with a decisive win in the 2012 Maybank Malaysian Open. Despite the tiring 30-hour trip to Kuala Lumpur for the tournament and frequent rain delays, Oosthuizen triumphed, finishing 17 under par.
"I think my win at the 2010 British Open helped me get my game to where it is at the moment," said the 29-year-old South African golfer.
Oosthuizen lives in Old Palm's Golf Estates neighborhood, a collection of extraordinary Palm Beach-inspired homes ranging from 3,400 to 5,000 square feet. The homes are beautifully situated on quarter-acre lots overlooking private water features, preserves or the Raymond Floyd-designed golf course.
Only the most prestigious builders in South Florida have been invited to construct homes in the Golf Estates neighborhood, where several model homes are still available. Oosthuizen and his family—wife, Nel-Mare, and two young daughters — purchased their home right before the Masters.
Old Palm is the ideal home base for Oosthuizen while he's playing golf in the United States, especially with its spectacular Golf Studio practice facility at his disposal. Sprawling over 33 acres, it includes a double-tiered, double-ended driving range and three full-length holes that are as manicured and challenging as those on the 18-hole course. The Golf Studio also features cutting-edge technologies such as a V1 Swing Analysis System and a SAM PuttLab that uses ultrasound to analyze the 28 most important parameters of the putting stroke.
All the members of Old Palm have full use of the Golf Studio and Old Palm's magnificent golf course, including Oosthuizen's fellow South African Charl Schwartzel, winner of the 2011 Masters, who also lives in Old Palm's Grand Estates with his wife, Rosalind. Oosthuizen and Schwartzel were childhood friends and are now 11th and 13th in the World Golf Ranking, respectively.
About Old Palm Golf Club:
Old Palm Golf Club stands alone as the premier private Club community in the Palm Beaches, with new estate homes ranging in price from $1.5 million to more than $15 million. This gated enclave boasts some of the best golf in the Southeast. Situated in the heart of the community is a clubhouse offering formal and informal dining, luxurious amenities including a full-time concierge, fitness studio, spa, pool, Club Casitas and world-class staff. The Raymond Floyd signature championship golf course and Golf Practice Studio reflects his passion for the game. It is ideally located in the heart of Palm Beach Gardens with close proximity to a wealth of luxuries and conveniences, including both Palm Beach International Airport and North County General Aviation Airport, which accommodates private jet aircraft. Old Palm enjoys sound financial security and stability, as it is managed by Clarion Partners, a leading real estate investment firm. More information about Old Palm is available at http://www.oldpalmgolfclub.com