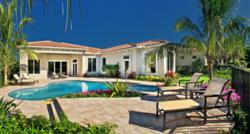 By opening up a collection of preserve lots for the first time, Old Palm is offering buyers even more options and opportunities
Palm Beach Gardens, FL (PRWEB) May 18, 2012
To satisfy the increased demand, a collection of new home sites has just been released for sale, opening up a brand-new section of the neighborhood. The new quarter-acre home sites overlook the preserve, a never before offered view.
Several of the builders in Old Palm, which are among the very finest in South Florida, have already constructed homes in the Golf Estates and are poised to build others. For instance, Courchene Development Corporation recently opened two models in the neighborhood — the 3,951-square-foot Royal Poincianna and the 5,060-square-foot Chesterfield — but has also designed a slightly smaller home that's ideal for any available Golf Estates home site.
At 3,426 square feet, Courchene's magnificent Poinciana features 3 bedrooms, three full and one half bath, a great room, study, and a two-and-a-half-car garage. When built on one of the newly released preserve lots, the one-story Poinciana is priced at $1,365,000, an extraordinary value for those who want a new home in the Golf Estates.
"By opening up a collection of preserve lots for the first time, Old Palm is offering buyers even more options and opportunities," says Connie McGinnis, Director of Sales. "The price point is also a bit lower than our water feature lots, which adds even more value."
Mustapick Estate Homes recently sold its first two models in the Golf Estates — the 3,855-square-foot Marseilles and the 4,055-square-foot Monaco— just two weeks after they became available and is duplicating them on other home sites in the neighborhood.
Still, to appeal to buyers seeking a slightly smaller home, the builder has plans to construct a new, one-story model called the Martinique. It features 3,409 square feet of living space with three bedrooms, three full and one-half bath, a den, and a spacious family room. As an alternative, the den can be redesigned to become a fourth bedroom and fourth full bath.
"It's a refreshing floor plan with an excellent use of space," explains Drew Giles, President of Mustapick Estate Homes. "It's bright, cheerful and open with lots of windows to let in the natural light. Because the Martinique has only a few hallways that extra space has been used to expand the other rooms."
The abundant shutters and French doors lend the Martinique an Old Florida or British Colonial feel, a design in complete harmony with Old Palm's Golf Estates. If built on a preserve lot, the Martinique starts at $1,315,000.
About Old Palm Golf Club:
Old Palm Golf Club stands alone as the premier private Club community in the Palm Beaches, with new estate homes ranging in price from $1.5 million to more than $15 million. This gated enclave boasts some of the best golf in the Southeast. Situated in the heart of the community is a clubhouse offering formal and informal dining, luxurious amenities including a full-time concierge, fitness studio, spa, pool, Club Casitas and world-class staff. The Raymond Floyd signature championship golf course and Golf Practice Studio reflects his passion for the game. It is ideally located in the heart of Palm Beach Gardens with close proximity to a wealth of luxuries and conveniences, including both Palm Beach International Airport and North County General Aviation Airport, which accommodates private jet airplanes. Old Palm enjoys sound financial security and stability, as it is managed by Clarion Partners, a leading real estate investment firm. More information about Old Palm is available at http://www.oldpalmgolfclub.com