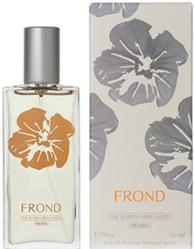 A sophisticated, feminine perfume.
Richmond, KY (PRWEB) June 04, 2013
Old World Fragrances, LLC wants to celebrate summer by giving away a bottle of their flagship fragrance, Frond eau de Parfum.
WHO:
Old World Fragrances is a distributor of unique fragrances in the United States
WHAT:
They are giving away one bottle of their flagship fragrance, Frond eau de Parfum.
HOW:
To participate, follow @OldWorldFragran on Twitter and Tweet this: "RT to be entered for a bottle of perfume from @OldWorldFragran #FrondPerfume
One bottle to be awarded. Enter no more than once a day. Only U.S. residents are eligible to win.
WHEN:
The contest begins June 1, 2013 and ends at midnight June 14, 2013 PST.
WHY:
Old World Fragrances wants to welcome in the summer by introducing the public to one of their favorite scents, Frond eau de Parfum.
For complete contest rules and entry information, please visit Facebook/OldWorldFragrances.
About Old World Fragrances
They are a U.S. fragrance import company selecting unique, eco-friendly fragrances that are not widely available in the United States. Currently they are working on their own line of spa soaps and scented palm was candles as well.
Frond, was discovered by owner Debbie Gallant while traveling in Ireland at a quaint perfumery, The Burren Perfumery. Her passion for travel and fragrances led her to open Old World Fragrances. Every fragrance sold at their online boutique has been personally selected by Ms. Gallant
For more information visit http://www.OldWorldFragrances.com or on Facebook.