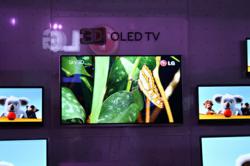 Oled-display.net report daily about new OLED device prototypes and AMOLED related products of the CES 2012.
Hofstetten (PRWEB) January 09, 2012
OLED-display.net presents the most interesting innovations from the Consumer Electronics Show (CES) 2012 in Las Vegas. The leading online portal for OLED - the display and lighting technology of the future – will report every day from 10 to 13, January about the latest OLED products and the latest prototypes.
This year, the exhibitors at the CES will present an especially large range of innovations:
LG Display/LG-Electronics introduce the world largest OLED-Television device. The 55 inch OLED-Tv panel 55EM9600 has a Full HD resolution 1080p and is 2D and 3D ready. "The panel has a refresh rate less than 0.1 microseconds, a panel depth of only 4 mm, and weights only 16.5 pounds" says Erich Strasser puplisher and editor in chief of OLED-Display.net. This panel will be introduced in Q2 or Q3 for about 8.000-10.000 dollars.
Samsung suggest in an advertising banner the Ultimate TV Super OLED Sensation at CES-2012.
Erich Strasser says:
"Samsung maybe introduce a glasses free 55 inch 3D OLED-Television device"
Samsung is ready to mass produce a 7 inch and 7.7 inch AMOLED panel, also for other Tablet-Pc manufacturer.
The major manufacturer will introduce Tablet-Pcs like the 7 inch from Toshiba or the Galaxy Tab 7.7 with Super-Amoled-Plus (WXGA 1280x800 pixel) at the CES-2012.
Samsung Mobile Display has a market share of 97.5 percent of all organic light emitting diode panel shipments.
LG Display, AUO, and CMI also are planning to ship small and medium sized AMOLEDs in 2012.
OLED-display.net has set up a complementary editorial service for journalists. There are free high-resolution pictures and videos of the latest OLED innovations of the CES 2012, CES-2011, CES-2010. Publication in online and print media is free of charge as long as OLED.at is mentioned as the source in the subscripts.
For further information on OLEDs go to http://www.oled-display.net
###