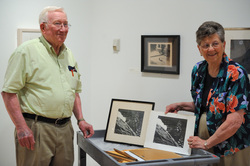 It is really remarkable when you think of the fact that they very easily could have decided to throw one of them away over the years since they were identical
Oxford, Miss. (Vocus) June 22, 2010
Nearly 40 years ago, Noel and Betty Watts set out on a vacation that remains the best one they have ever taken.
The couple headed out to see the western United States with their two sons in summer 1972 without hotel reservations or even an itinerary. Instead, they loaded their Oldsmobile down with camping gear and a tent, and they took off to see a part of the country they had never seen. That memorable journey west gained even more significance recently when the couple discovered that the purchase of an inexpensive print held a hidden treasure.
The family set up camp outside Laramie, Wyo., and routinely would leave their campground in a state park to peruse the local art and antique shops. Noel, a collector and appraiser of antique coins, was on the hunt for additions to his collection, but the couple also had decided to purchase some memento of the trip to display in their home.
At one of the shops, they happened upon two identical prints of a skier going downhill and purchased the set for about $5 total. The Watts brought the prints home and hung them on a wall.
"Over the years, we would move them to different locations, take them down, hang them back up," Noel said.
When the couple moved to Oxford after 30 years of living and working in Fulton, Miss., the prints were placed in a box where they remained, hidden among boxes of Christmas decorations in a loft of the Watts' home.
This past Christmas, Betty was in the loft deciding which Christmas decorations to bring down.
"She handed me some stuff saying she was going to just go ahead and toss it out," he said.
As Noel placed the prints on the table, one of the frames fell apart revealing something hidden behind the print of the skier. Unsure of what the newly revealed picture could be, Betty called her friend and artist Janet Barnes. Barnes quickly cautioned Betty not to get too excited since it was likely that the discovery was not an original.
However, Barnes, who is on the board of the Friends of the University of Mississippi Museum, referred the couple to museum director William Andrews.
Andrews, who regularly gets requests from citizens who need help finding out information about a piece of art, immediately recognized the image as an Edward Hopper etching that he taught regularly in his art history class.
"It is my favorite Hopper image because it really contains all of the mystique and passion of Hopper's interest in illumination and shadow," he said.
However, at first glance, Andrews had very little hope that the picture that had been revealed was an authentic Hopper etching.
After a careful and thorough examination using recognized appraisal processes, Andrews began to believe that it was possible that it was an original Hopper etching. Confirmation of its authenticity came a short time later when research revealed an identical etching from the same edition sold at a Christy's auction for $35,000.
"It is really remarkable when you think of the fact that they very easily could have decided to throw one of them away over the years since they were identical," he said. "What if they had and thrown away the hidden Hopper etching?"
For Noel, the discovery has just served as a bonus to a vacation taken 40 years ago.
"It truly was the best vacation we ever had," he said. "We had no idea where we were going. We just did what we wanted to do. Finding this etching has just added to that whole experience."
The etching now appropriately hangs in a spot at the University Museum, which already houses one of the finest collections of Greek and Roman antiquities in the United States in addition to original works by a number of famous American artists.
The Hopper etching hangs in the exact spot once occupied by a work by American artist Arthur Dove. Coincidentally, the Dove work had already been scheduled for conservation before being loaned out for an outside exhibit.
The Watts have loaned the picture to the Museum through summer 2011. Despite the value of the etching, they have no plans to sell it. Instead, they think they will pass it down through the family as a reminder of the remarkable story.
For more information or to set up interviews with Watts, Andrews or Barnes, please contact Jennifer Farish at 662-915-5079 or jpfarish@olemiss.edu. Admission to the museum is always free for everyone. For more information, contact Andrews at 662-915-7202
###