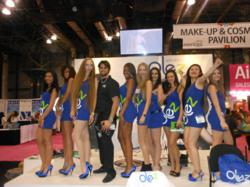 we were surprised by the turnout and interest, it was way more than we expected. We now welcome distributors in support of the interest.
Boca Raton, FL (PRWEB) May 01, 2012
After 3 days of Exhibition at IBS (International Beauty Show) Olez Advanced goes out with a bang.
Olez Advanced drew large crowds with their innovative and safe straightening solution for professional stylists. Olez Advanced offered a highly effective straightening product that not only saves time but increases profits for salons and professionals. The crowds were invited to touch, smell, and feel the difference their sprayable keratin made on the models' hair. Bloggers, stylists, and business owners alike volunteered themselves as models for a hair makeover and walked away amazed. By the end of the 3-day exhibit, IBS attendees were chanting, "Olez!".
Among those loving the effects was blogger Jessica Dowling who raved after her treatment on the show floor "my hair is SO straight and smooth! "
The International Beauty Show (IBS-NY), from April 22-24 at the Jacob Javits Center, is one of the longest running tradeshows exclusively for beauty professionals. Roughly 60 thousand beauty professionals from around the world were in attendance and Olez Advanced, exhibit booth #327, gave an explosive and exciting first year with it's unique spray technology and parade of models showcasing their before and after results.
Olez Advanced is a safe, formaldehyde-free, straightening solution treatment that is effective on all hair types. It's spray technology makes it the fastest and most effective application on the market, translating to higher earns as well as very happy clients. Salon attendees were so amazed by the soft and smooth results that Olez sold out of all their hair straightening solution kits and samples. An overwhelming amount of hair stylists also became Certified Olez Professionals, creating a huge demand in the area. Boca Cosmetics Group, Executive Director, Gisela Basilio, said "we were surprised by the turnout and interest, it was way more than we expected. We now welcome distributors in support of the interest."
Olez Advanced lasts from 12-30 washes depending on hair type, yielding even better results with subsequent applications. Platform Educators gave live demos on the show floor, demonstrating how quick and easy the spray application is to work with as well as certifying eager hair care professionals on the floor. They were able see the Olez Advanced process from start to finish, they were also able to touch and feel the effects before and AFTER washing the hair. Olez Advanced educator, Gustavo Tundela reminded the audience, "There are no surprises with Olez." The audience was able experience the difference Olez Advanced makes and even see results after an immediate wash.
Olez Advanced will again be exhibiting this summer at Premier Orlando, June 3 & 4 at booth 575, and educating attendees in English and Spanish on the benefits of using Olez Advanced. Certification will be open to all hair professionals. Certification and Business Class at Premier Orlando 2012]on June 3rd. The same will repeated at The Long Beach Beauty Expo on June 24 and 25.
About Boca Cosmetics Group
Boca Cosmetics Group is a quality hair care manufacturer for leading hair care brands as well as brand owner. Boca Cosmetics Group specializes in hair straightening products and is leading the way with innovative and safe products for Professionals and Consumers.