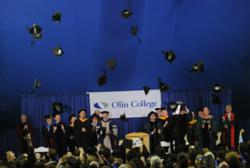 Needham, MA (PRWEB) May 25, 2011
Three members of Olin's Class of 2011 are joining two members of last year's class in becoming the first Olin graduates to be designated as Grand Challenge Scholars (GCS).
Along with the University of Southern California and Duke University, Olin founded and initiated the GCS Program, which seeks to ensure a steady supply of graduates with the skills to tackle the 14 global "Grand Challenges" identified by the National Academy of Engineering.
To become a Grand Challenge Scholar, an Olin student must demonstrate achievement in each of five curricular components: a Grand Challenge project; interdisciplinary experience; entrepreneurial experience; global awareness; and service learning. He or she must also create an individual Grand Challenge Scholar portfolio.
According to program guidelines, participation "is a symbol of an Olin community member's decision to emphasize the skills determined by the National Academy of Engineering and the fourteen Grand Challenges' solutions to be driver of his/her academic and personal development."
Olin's first Grand Challenge Scholars are:
Ellen Chisa '10
Major: Electrical and Computer Engineering
Hometown: Rochester Hills, Minn.
GCSP Portfolio title: "Alight Learning"
A key experience in convincing Chisa to become part of the GCS Program was her Olin College education, which emphasized interdisciplinary work, globalism and making a difference in the world. Another was Alight Learning, a software venture she and five other Olin students founded during a year off between their sophomore and junior years. "The requirements for the Grand Challenge Scholars Program really resonated with me," said Chisa. "I'd already taken an entrepreneurial sabbatical, I love to travel to inform my work, and Olin itself is very interdisciplinary. I felt like it fit too well with my education not to get involved." Chisa is currently working as a program manager on the Office Mobile Shared Services team at Microsoft.
Matthew Ritter '10
Major: Mechanical Engineering
Hometown: New York City
GCSP Portfolio title: "Raw Solar"
Ritter was a natural for the GCS Program because of his abiding interest in sustainability. One of his most valuable experiences was when he took a year off from Olin to become involved in an entrepreneurial venture called Raw Solar, a company that was attempting to develop a solar concentrator technology. The startup offered invaluable insights into what it really takes to support the sustainability movement. "The acceptance of technology is not merely a 'survival of the fittest' process," said Ritter. "Instead, business factors, personal factors, and simple luck have a tremendous influence on how a technological segment grows." With that in mind, he's currently working for a non-green company to develop his business skills.
Marco Morales '11
Major: Engineering: Product Design and Development
Hometown: San Diego, Calif.
GCSP Portfolio title: "Creating Visual, Self-Directed Learning Environments"
Coming out of high school, Morales knew he wanted to study engineering, but wasn't sure exactly what he wanted to do with his degree. Through the GCS Program, he found his direction and pulled together the threads of his Olin education. At Olin, Morales discovered a passion for user-centric design—products that take into account human factors—and the future of education. He also found himself gravitating toward coursework that crosses disciplinary boundaries. "My interests lie in doing work at the intersections of traditional disciplines, working to connect fields and insights that haven't been leveraged before." Morales plans to work for companies focusing on education.
Andrew Pethan '11
Major: Engineering: Computing
Hometown: Appleton, Wis.
GCSP Portfolio title: "Teaching and Developing the Next Generation"
Pethan left his Midwestern roots to travel east for his education because he was intrigued by Olin College's ground-breaking approach to engineering education. At Olin, he organized an independent study called "Meta Olin" to explore educational innovation. His interest in this topic sparked a zeal to reform K – 12 learning, which has now become his life's work. "The Grand Challenge I am excited about is changing how students learn and grow in school to become well-prepared and fulfilled adults," said Pethan. Post-Olin, he plans to get married, move to Minnesota and begin a one-year mentoring program to teach high school math near Rochester, Minn.
Christina Powell '11
Major: Mechanical Engineering
Hometown: Allentown, Pa.
GCSP Portfolio Title: "Learning, Leading and Teaching"
As curriculum developer and eventually leader of Engineering Discovery, a student-run service organization at Olin, Powell helped develop fun, hands-on engineering projects for local K-5 students. Powell feels Olin's emphasis on inside and outside the classroom learning provided her with a new perspective on what it means to be an engineer: "This different way of thinking is what allows me to be certain that I am a Grand Challenge Scholar and that I will be able to go off into my next position, or, rather, the rest of my life, and take my skills as a Grand Challenge Scholar with me."
About Franklin W. Olin College of Engineering
The Franklin W. Olin College of Engineering is a private undergraduate engineering college located in Needham, Massachusetts. The College opened in 2002 and has since graduated more than 300 students. Olin College's mission is to prepare students to become exemplary engineering innovators who recognize needs, design solutions, and engage in creative enterprises for the good of the world. To that end Olin College has brought together some of the best minds and the best ideas in engineering education to develop a hands-on, interdisciplinary program geared toward today's technology challenges. More information can be found at http://www.olin.edu.
###