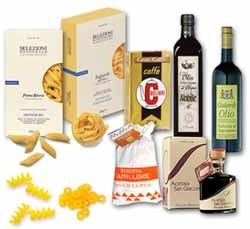 It takes months and 40-50 different samples to pick a single product: you can taste the difference!
Milton, MA (PRWEB) February 7, 2008
OliveNation announces the launch of its online store at http://www.olivenation.com . Bring Italy's best to your kitchen including single-estate extra virgin olive oils, sea salt, organic and corn pasta , aged balsamic vinegars, fine Italian roast coffee -- and it won't cost you any more than if you shopped the national gourmet chains.
OliveNation owners, husband and wife team Amit Mitra and Chiara Lucia, decided to use the tag 'A True Taste of Italy' with good reason. "We were frustrated with what was being offered at the market as 'Made in Italy'," says Amit. "We knew of so many wonderful small farms who use local grapes and local olives and local wheat without chemicals, with skills passed down through endless generations. But it seemed as though the only way to taste all this great food was to go to Italy. We decided to change that." One visit to their site and the love and passion that went into creating the site and selecting the products becomes clear. Check out the Venetian style coffee, the exquisite balsamic vinegars or Cervia sea salt hand-harvested for the Popes and bring a little bit of Italy right to your dinner table. The founders of OliveNation have done the legwork for you, selecting foods that they and other Italians use every day in their own kitchens. Only a very few products and farmers make the final cut. Chiara said, "It takes months and 40-50 different samples to pick a single product: you can taste the difference!"
OliveNation only offers high quality authentic products, going beyond package labels, like seeking out extra virgin olive oil pressed within 24 hours from hand-picked Italian olives, and organic pasta made from bronze dies -- creating a superior pasta shape to better capture your favorite sauce.
Visitors to the site will not only tempt their taste buds, but learn about storing olive oils, where and how aged balsamic vinegars are produced, and find a bounty of free, delicious recipes. OliveNation.com is currently offering free shipping in the U.S.
# # #