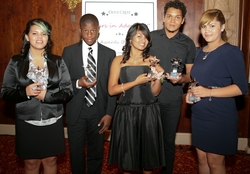 "I am so proud of Aswan, who came from a challenging childhood background and has used his experiences in a beautiful way to create his art.
Los Angeles, CA (PRWEB) November 9, 2010
In celebration of National Adoption Awareness Month (November), and to raise awareness about the need for adoptive families and the work that Olive Crest is doing in Los Angeles County,Olive Crest recently held its first annual "Stars In Adoption" Awards at the Millennium Biltmore Hotel in downtown Los Angeles.
Emceed by Los Angeles Times columnist and ESPN personality Bill Plaschke, a longtime Olive Crest supporter, the evening featured a host of celebrated honorees and presenters, including rising musical star Aswan North; Patricia Ploehn, Director of the Los Angeles County Department of Children and Family Services; California congressman Adam Schiff; Mike Harrah, Owner of Original Mike's; LaFern Cusack of ESPN Radio and Radio Disney; and actor Perry King ("Big Love"), who serves as Chairman of Olive Crest's Los Angeles Board of Trustees.
Olive Crest, the acclaimed nonprofit that provides a wide range of services—including foster and adoption services—for at-risk children and teens and their families, presented more than a dozen "Stars In Adoption" Awards at the event.
"Olive Crest's 'Stars in Adoption' are so diverse and come from so many different places in life that you could almost say they have nothing in common—except one very important thing," said William A. Bedrossian, Olive Crest's Executive Director for the Los Angeles region. "Each of these men, women and kids understands at a very deep level the importance of healthy, loving families. And they're all part of making that dream a reality in Los Angeles County."
Among those receiving awards were:
Aswan North, lead singer of the Paper Tongues, a rapidly ascending band discovered and managed by "American Idol" judge Randy Jackson, for being a role model as an adoptee and a true rising star. "I am so proud of Aswan, who came from a challenging childhood background and has used his experiences in a beautiful way to create his art," says MTV casting director Heidi Tuttle, who presented the award. "When Aswan sings, 'Hear me pleading/I'm a child/I'm the poor/I am needing,' he speaks for all of us who work on behalf of the children who need us."
California Congressman Adam Schiff for his ongoing adoption advocacy work in Los Angeles.
Mike Harrah, owner of the Original Mike's in Santa Ana, for his generosity as a corporate partner to Olive Crest.
Patricia Ploehn, Director of the Los Angeles County Department of Children and Family Services and adoptive parent, for her guidance of the agency that has done more adoptive finalizations over the last 5 years than any other child welfare agency in the world.
Adoptive parents Grant and Frances Delgatty of Pasadena; Jeff and Maureen Learned of La Crescenta and Karina Sanchez and Mario Muniz of Bell Gardens for serving as great inspirations and role models for other families considering adoption. "Receiving this award is a huge honor," said Jeff Learned, a television editor for Pilgrim Films and Television and whose credits include "Dirty Jobs." "But Maureen's and my greatest reward—which we are given every single day—is our children."
Four brave teens from South Los Angeles: Aléjandra Perez (17, of Cudahy), Brittany Farfan (15, of South Gate), Eugene King (13, of Bellflower), and Sofia McDonald (13, of Bellflower) who were the first to share their voices in Olive Crest's new Digital Storytelling program, which is run in collaboration with the Center for Digital Storytelling. The program is the first of its kind to be used with adopted youth in Southern California.
The event served as a "world premiere" for the short videos (2½ to 4 minutes in length), which explored topics of abandonment, identity and gratitude: Brittany's video spoke about her relationship with her paternal grandmother, who adopted her after Brittany's biological mother abandoned her; Sofia's is a thank-you to her new adoptive mom—her third-grade teacher; Eugene, adopted as a baby, grapples with identity issues; and Aléjandra contemplates a long-distance move to live with her new adoptive parents. Gayle and Rasheed Ali from the Center for Digital Storytelling were also honored for helping to launch Olive Crest's Digital Storytelling Program.
Other celebrated participants in the "Stars in Adoption" awards included: Olive Crest founders Dr. Don and Lois Verleur; Olive Crest CEO Donald Verleur; screenwriter Kim Watson ("Honey"); Nick Ippolito, Deputy to the Honorable Supervisor Don Knabe; and Bob Saunders, VP, Morgan Stanley/Smith Barney. Olive Crest's 1st Annual Stars in Adoption Awards evening was sponsored by the California Consumer Protection Foundation and Original Mike's.
Media Contact
Alison Hill, CurrentPR, 714-444-9731 x201, alison(at)currentpr(dot)com
Photos by Tony Ponce, http://www.EscovarStudios.com and Lance Perkins, http://www.LancePerkins.com
About Olive Crest
Since 1973, Olive Crest has transformed the lives of over 50,000 abused, neglected, and at-risk children and their families. We work tirelessly to meet the individual needs of kids in crisis by providing safe homes, counseling, and education for both youth and parents. Our many innovative programs reflect our conviction that strengthening the family is one of the most powerful ways to help heal children. With unwavering compassion, the Olive Crest family maintains a lifelong commitment to the youth and families we serve even after they have graduated from our programs.
Olive Crest serves nearly 1,000 children and families each day throughout California, Nevada, and the Pacific Northwest. For information call 1-800-550-CHILD (2445) or visit http://www.olivecrest.org.
# # #