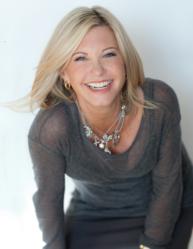 Las Vegas, NV (PRWEB) September 05, 2012
With a career spanning more than four decades and over 100 million albums sold, multiple Grammy Award winner Olivia Newton-John celebrates her 40th year in music with a three month North American concert tour from New York to California, September 6 through December 15, 2012.
A vibrant, creative individual who is adored by fans around the world, Olivia remains an icon in both movie and music history, having been honored with four Grammy Awards, numerous Country Music, American Music and People's Choice Awards, an Emmy Award, ten #1 hits including "Physical," which topped the charts for ten consecutive weeks, and over 15 top 10 singles. (Billboard Magazine recently listed "Physical" at #6 on their Top 100 Songs Of All Time list and named it "The Sexiest Song of All Time".) Olivia hit the Hot 100 chart once again with the dance remix of "Physical" that she recorded and performed with Jane Lynch on the hit series, "Glee."
In 1978, her co-starring role with John Travolta in "Grease" catapulted Olivia into super-stardom. This film's best-selling soundtrack featured the duets "You're The One That I Want" and "Summer Nights," with Travolta, as well as her mega-hit, "Hopelessly Devoted To You." To date "Grease" remains the most successful movie musical in history. Her other feature film credits include "Toomorrow," "Xanadu," "Two Of A Kind," "It's My Party," "Sordid Lives," and "Score: A Hockey Musical." Her latest film, "A Few Best Men," has received critical acclaim around the world and is scheduled for a USA release in late 2012.
Adding author to her already impressive career, Olivia's new cookbook, "LivWise: Easy Recipes for a Healthy, Happy Life" was recently released and all of her royalties will benefit the Olivia Newton-John Cancer and Wellness Centre (ONJCWC) in her hometown of Melbourne, Australia. As a breast cancer "thriver," after nearly ten years of fundraising and building, Olivia is thrilled that the ONJCWC opened its doors to patients on July 2, 2012 – almost 20 years to the day from her own cancer diagnosis.
Upcoming recording projects for Olivia include a holiday CD and a CD featuring many of her hits as dance remixes, along with new brand new material. With her current and ongoing projects and philanthropic endeavors, Olivia's worldwide popularity is as strong as ever!
# # # # #
Connect with Olivia Newton-John:
Official Website: http://www.OliviaNewton-John.com
Facebook: http://www.facebook.com/olivianewtonjohn
Twitter: http://www.twitter.com/oliviaNJ
Olivia Newton-John Fall 2012 Tour Schedule
September 6 – Boise, ID – Eagle River Pavillion
September 7 – Sandy, UT – Sandy City Amphitheater
September 8 – Layton, UT – Kenley Centennial Amphitheatre
September 10 – San Diego, CA – Humphrey's
September 13 – San Francisco, CA – SHN Golden Gate Theatre
September 14 – Reno, NV – Silver Legacy
September 15 – Indio, CA – Fantasy Springs
September 21 & 22 – Washago, Canada – Casino Rama
September 23 – Jackson, MI – Potter Center
September 24 – Minneapolis, MN – The Guthrie Theater
September 27 – 28 – Minot, ND – Norsk Hostfest
September 29 – 30 – Omaha, NE – Holland Performing Arts Center
October 3 – Norman, OK – Riverwind Casino
October 5 – Greeley, CO – Union Colony Civic Center
October 6 – Cheyenne, WY – Cheyenne Civic Center
November 1 – Jackson, TN – Carl Perkins Civic Center
November 2 – Thackerville, OK – Winstar Casino
November 4 – San Antonio, TX – Majestic Theater
November 7 – Carlton, MN – Black Bear Casino
November 9 – Kalamazoo, MI – Miller Auditorium – Western Michigan University
November 10 – Aurora, IL – Paramount Theater
November 11 – Sault Ste. Marie, MI – Kewadin Casino
November 15 – Huntington, NY – Paramount Theatre
November 17 – Atlantic City – Trump Taj Mahal
December 8 – Pittsburgh, PA – Heinz Hall
December 14, 15, 16 – Orlando, FL – Epcot Center Candlelight Processional