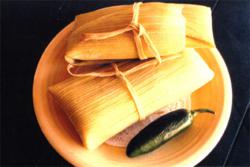 San Francisco, CA (PRWEB) December 22, 2011
Chef Hilario Chico is proud to open the doors of Olivia's Brunch and Fine Dining, a San Francisco Mexican restaurant, on Christmas Eve and Christmas Day to share a traditional Mexican feast that includes mouthwatering house specialties like mole poblano, enchiladas, and handmade Christmas tamales. Making and enjoying tamales on Christmas Day is a widespread tradition within Mexican and Latin American cultures across the United States.
The two-day process of making tamales is typically reserved for holidays and special occasions. The strong association between Christmas and tamales is attributed to families coming together during the holidays to spend time together and share in the process of wrapping tamales. Chef Hilario Chico says loyal customers can always tell when it's Christmas time at Olivia's Brunch by the incredibly delicious aroma of masa and steamed sweet corn husks.
During Christmas Eve, Chef Hilario Chico is giving one complimentary drink per table to kick off your holiday. Olivia's Brunch and Fine Dining will be open from 5pm to 10pm on Christmas Eve and 8am to 3pm on Christmas Day. Olivia's Brunch is a local favorite within San Francisco's Mission District, and Chef Hilario Chico encourages both neighborhood residents and families from across the Bay Area to share in the restaurant's Christmas tradition.
For more information on Olivia's Brunch and Fine Dining, call (415) 529-5114 or visit them online at http://www.sundaybrunchsanfrancisco.com. Olivia's Brunch and Fine Dining is located at 3771 Mission St., San Francisco, CA 94110.
About Olivia's Brunch and Fine Dining
Olivia's Brunch and Fine Dining is known for serving some of the best American, Californian and Mexican food in San Francisco with the highest quality ingredients and friendly service. In addition to their celebrated San Francisco Sunday brunch service, they also offer catering services for private events such as business meetings, weddings, birthdays and more. Their in-house facility can accommodate up to 40 people. They can also cater off-site for up to 300 people.
###