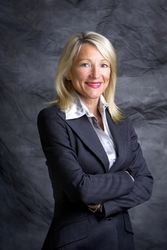 The financial 'blow out' in 2008 has changed the planning horizon forever. In the past we planned for a home run, but now we create new strategies base by base. The buy and hold approach is no longer a play in our game
Minneapolis, MN (PRWEB) July 21, 2009
One of the nation's top wealth managers listed by Worth magazine, Sharon Olson, has reorganized her wealth governance firm under the name Olson Wealth Group. The successful transition brings opportunity for new service and stewardship strategies from the collective wisdom of a newly formed team.
Olson acknowledges that this turning point provides customers with seamless continuity, enhanced communication, comprehensive wealth management, and flexible investment plans. Integrity and passion for the industry direct Olson Wealth Group in developing honest, open relationships with clients, transforming the complexity of wealth into an awakening of knowledge and power.
Olson Wealth Group's unique approach to wealth management keeps client plans in-tune with the economy, as they carefully assess risk and return for each, resulting in a 96% customer retention rate. "The financial 'blow out' in 2008 has changed the planning horizon forever. In the past we planned for a home run, but now we create new strategies base by base. The buy and hold approach is no longer a play in our game," Olson says.
Recently Sharon Olson was among "Best of Best" financial advisors attending Barron's Winner's Circle Top Independent Advisors Summit, and for the past four years has been named as one of the "100 Most Exclusive Advisors." For more information, visit http://www.olsonwealthgroup.com.
Olson Wealth Group, LLC
Sharon Olson, CFP, is the principal of Olson Wealth Group, LLC, based in Bloomington, Minnesota. The firm provides the highest level of service possible through its financial consultants' affiliation with LPL Financial, the nation's leading independent brokerage firm*. The financial professionals at Olson Wealth Group offer securities, asset management and advisory services through LPL Financial, member FINRA/SIPC. Together, they can offer the stability of a solid financial institution with the entrepreneurial spirit and personal service of a smaller firm.
*Based on total revenue, as reported by Financial Planning magazine June 1996-2009.
# # #