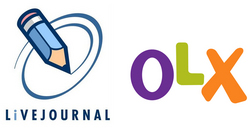 Users will be able to sell, buy, exchange and find all possible goods using the convenient interface integrated in LiveJounal
New York City (PRWEB) January 28, 2010
LiveJournal.com, the largest online blog hosting platform, and OLX, popular global online classifieds site have launched a co-branded classifieds channel at LiveJournal.com. This channel will expand functionality and increase convenience of LiveJournal for its users.
LiveJournal already has a variety of communities which help users to sell, buy and exchange certain types of goods. Now LiveJournal users will have a dedicated platform for such activities. LiveJournal has created a new "Classifieds" section (http://www.livejournal.com/classifieds), which offers full-featured OLX functionality and access to the entire OLX Classifieds database with over two million listings. The new section lets users publish classifieds not only in communities, but also in categories covering particular kinds of goods and services. Classifieds created by LJ users will be automatically added to the OLX database.
"LiveJournal is based on interaction between users, exchange of information, opinions and moods. Classifieds posting service will smoothly expand formats of such interaction. We welcome the opportunity to work with OLX, especially taking into account that OLX and LJ are international projects. Our cooperation will let us provide new opportunities for LiveJournal users worldwide," said Boris Ovchinnikov, LiveJournal Russia general manager.
"We are glad to start this cooperation with the biggest blogger platform and community - LiveJournal.com. Our product will benefit LJ users in Russia, USA and other countries of the world. Users will be able to sell, buy, exchange and find all possible goods using the convenient interface integrated in LJ," said Diana Moldavsky, Director of Russia and CIS at OLX.
SUP is an international online media company based in Moscow. Since its launch in 2006 it has acquired and grown organically four businesses. These companies are split into two core business units. SUP MEDIA holds #1 position for news, sport, analytics and blogging in Russian online space – reaching more than 49% of Russian web users (TNS Gallup, October 2009). SUP MEDIA maintains LiveJournal.com – the most popular blogging site and social media platform in Russia.
OLX is the largest free classifieds site in the world and provides free user-generated classified advertisements for urban communities around the globe. OLX is available in 90 countries and 40 languages. OLX full geo base provides users with opportunity to buy and sell goods virtually in any small town they live in. The company was co-founded in March 2006 by Internet entrepreneurs Fabrice Grinda and Alec Oxenford. For more information and to explore the site, visit: http://www.olx.com
###