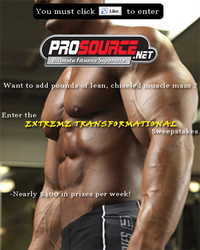 however we see annual trade shows like Olympia Weekend as an enormous opportunity to bring new customers and fans into the flock.
Manasquan, NJ (Vocus) September 21, 2010
Major players in the supplement and bodybuilding universe for well over a decade now, ProSource has developed a reputation for forging strong relationships with its "extended family" of devoted customers. Each year, ProSource celebrates that bond by putting on a great show for its customers at the annual Olympia Weekend in Las Vegas, and this year will be no exception.
The dual theme this year for ProSource is giveaways and social media. The ProSource crew will be giving out free copies of their highly anticipated new Ultimate Supplement Guide and Catalog, the industry's definitive publication for expert analysis and news of products and trends, plus samples of top-selling protein bar Supreme Protein. This year, ProSource hopes to grow their engage with their fanbase by encouraging everyone who drops by their booth (booth 1439) to join their Facebook Fan page. Those who join the page will receive a free ProSource T-shirt and will automatically be entered to win a supplement package valued at nearly $400.00. The ProSource booth will also be holding a men's and woman's best physique competition to by voted online by the fans on the ProSource.net Facebook page.
With a sterling reputation for product innovation, customer service and prices second to none, ProSource.net has long been a respected presence in the supplement industry. "There's no question we have a large loyal customer base of frequent purchasers," says ProSource Vice President, Kelly Conklin, "however we see annual trade shows like Olympia Weekend as an enormous opportunity to bring new customers and fans into the flock."
As in past years, there will be plenty of lovely fitness models at the ProSource booth (booth 1439), giving away catalogs and samples of Supreme Protein bars. Everyone who drops by the booth will have the opportunity to win one of three Extreme Transformational Stacks, one via a random drawing at the end of the show, one via sweepstakes on ProSource's Facebook page, and one which will go to the winner of the Best Physique Competition.
This award-winning stack features: 2 boxes of Supreme Protein bars, 1 container of Vectron protein, 1 container of MyoZene mass builder, 1 bottle of BetaStax thermogenic, 1 bottle of ZMA, 1 bottle of Creatine Monohydrate, 1 ProSource.net Heavy Duty Duffel Bag, 1 ProSource.net Blender Bottle Shaker Cup, 1 ProSource.net Body Tape Measure and 1 ProSource.net T-shirt (approximate retail value of $389.95). This Extreme Transformational Stack features three of the bodybuilding industries most tried and true supplement brands, designed to work synergistically to add pounds of lean muscle mass by addressing every conceivable mechanism of weight loss and muscle gain.
Be sure and join ProSource at the Olympia or visit them online at ProSource.net.
# # #