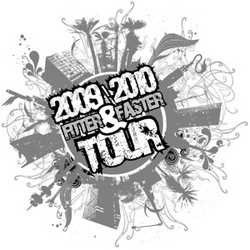 Being inspired by champions plays a big role in the lives of everyone - whether it's athletically, through education, or how you treat others
Miami Beach, FL (PRWEB) August 14, 2009
Swimming is one of the most popular competition, recreation and fitness activities on the planet. Unfortunately, traditionally, the stars of the sport have not been easy to see in person or even on television. The Fitter and Faster™ Tour changes that by enabling fans of all ages to meet and interact with Olympic champions and world-class swimmers.
The tour kicks off on August 15th in Seattle, Washington and will be followed by stops in over 30 cities throughout the United States including these in August: Portland, Oregon (August 16); Long Island, New York (August 22); Philadelphia, PA (August 23); Miami, FL (August 22); Chicago, IL (August 29 & 30); and San Diego, CA (August 29). The tour will be ongoing, adding events throughout the United States. The schedule of events is located at SwimChampions.com.
It is estimated that until now, that at most, 6% of USA Swimming's 250,000 registered members meet or watch Olympic swimmers in person in any given year. Meanwhile, it is estimated that at least 70% of all registered members of swimming organizations go to see at least one major league baseball game, NFL game, or NBA game each season. These same kids come home from swim practice, turn on the TV and see their favorite "pro sports" stars on ESPN, then open up the newspaper and their heroes are there.
With statistics like those, it's no wonder why swim teams have a problem retaining their athletes between the ages of 12 and 15. The drive to stay on a swim team, be great, or to compete for collegiate scholarships comes from having fun in the sport of swimming and being inspired.
The Fitter & Faster Tour's goal is to make elite Swim Champions more accessible throughout the world; improve retention rates on swim teams; and play a role in saving college swim teams… all while providing an amazing swimming experience and products for participants of all ages.
The Tour features many of the world's greatest swimmers - individuals who are champions in the pool and out of it. They are leaders in their communities and advocates for causes they care about. The event will boast Olympic gold medalists, world-record holders and NCAA Champions, including; Matt Grevers (2 gold, 1 silver), Peter Vanderkaay (2 gold, 1 bronze), Megan Jendrick (2 gold, 1 silver), Mark Gangloff (2 gold), Christine Magnuson (2 Silver), Ben Wildman-Tobriner (1 gold), Ous Mellouli (1 gold) and Lacey Nymeyer (1 silver).
The events are available for participants of all-levels and ages. Included in the three-hour event are; question and answer sessions, autographs and photos, swimming technique and drills, an opportunity to hold Olympic medals, a talk for parents and gift bags. The gift bags include a SwimChampions.com t-shirt provided by Speedo; a Fitter & Faster swim cap provided by TYR; product samples from companies including Powerbar and Agave Chocolate #9. Plus, all registrants will receive a special 64-page full color magazine program that contains biographies and stories on all of the Olympic athletes on the Fitter & Faster Tour. This program will be great for receiving autographs of all the stars.
People interested in obtaining more information on the Fitter & Faster Tour or registering can do so at SwimChampions.com. The events this weekend are at Mt. Rainier High School in Des Moines, WA and the Tualatin Hills Aquatic Center in Beaverton, OR.
"Being inspired by champions plays a big role in the lives of everyone - whether it's athletically, through education, or how you treat others," said David Arluck, President of Arluck Promotions, a Miami Beach based sports marketing firm putting on the event. "It's not every day you get a chance to meet an Olympian. To get the chance to swim and engage with multiple Olympic athletes makes it a truly unique experience that will significantly impact participants and their passion for the sport."
The impact runs far beyond the date of the event, as a portion of the proceeds will be donated to the USA Swimming Foundation, which promotes swimming at the grassroots level and supports learn-to-swim programs. World Sport Chicago has also teamed with the Fitter & Faster Tour to promote youth sport throughout the United States and raise awareness for the city's bid for the 2016 Olympic Games.
"As a native of the greater Chicago area, I am passionate about the opportunity to bring the Olympic Games to my hometown," said Matt Grevers who was a four-time NCAA champion for Northwestern University. "It's great to be able to bring excitement and attention to the sport and worthy causes that I support." "Swimming has given so much to me," said two-time Olympic gold medalist Megan Jendrick who will be leading the very first events in Seattle and Portland starting August 15. "I can't wait to share my passion for the sport with people across the country."
# # #