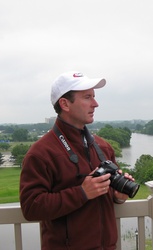 The American said, okay good. Good start. Good guys. They are very good.
BEIJING (PRWEB) August 13, 2008
The Iraqi crew in the men's double scull of Hussein Jebur (stern seat) and Haider Nozad (bow seat) made headlines before the Olympic Games even began. The International Olympic Committee disqualified the Iraqi team from competition and then reversed the decision shortly before the start of the Games, thus allowing Nozad and Jebur to compete at the Olympics in Beijing.
For both the US and Iraqi crews, this is their first appearance in Olympic competition. It is hoped that there will be more. Elliot Hovey and Wes Piermarini earned the opportunity to represent the US at the Olympic Games by winning the qualification regatta in New Jersey in June. Hovey and Piermarini were then named to the US Olympic Rowing Team later that month. The two have now completed their Olympic competition by winning the race with the Iraqi team.
Before the competition, the members of both crews took the opportunity to speak and wish each other good luck. After the race, the two crews congratulated one another on their respective Olympic debuts. Jebur and Nozad were heard to say of the US crew: "The American said, okay good. Good start. Good guys. They are very good."
"What a great experience for both the US and Iraqi crews. I hope Jebur and Nozad will be able to accept our invitation to visit the California Rowing Club and row on the Oakland Estuary with the San Francisco skyline across the bay," said Rich Hallock, executive director and CFO of the California Rowing Club.
Rowing competition at the 2008 Olympic Games continues until August 17 at the Shunyi Olympic Rowing-Canoeing Park in Beijing, China.
About the California Rowing Club
Located in Oakland, Calif., the California Rowing Club is a national training center for elite-level rowers who compete at World Cup, World Championship, and Olympic levels. The California Rowing Club works closely with other rowing organizations, including USRowing and the US National Rowing Team to support the success of US athletes in the highest levels of domestic and international competition. The California Rowing Club is a donor-supported 501c3 non-profit organization, dedicated to improving the sport of competitive rowing. Please visit online: http://www.CaliforniaRowingClub.org
For more information, please contact Rich Hallock, executive director and CFO directly at tel: (510) 899-7906 or e-mail: Rich.Hallock@CaliforniaRowingClub.org
MULTIMEDIA GALLERY http://www.businesswire.com/cgi-bin/mmg.cgi?eid=5755863