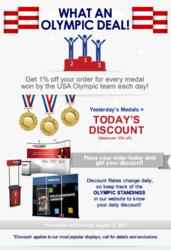 So we came up with the idea to share the Olympic enthusiasm with all of our customers, by providing discounts based on how many medals Team USA wins each day.
Fort Lauderdale, FL (PRWEB) July 25, 2012
exhibitDEAL, the Original Exhibit Wholesaler, is pleased to announce an innovative promotional program to show their support for Team USA at the London 2012 Summer Olympic Games. "Our marketing manager can't wait to see if Michael Phelps can get the three more medals needed to become the most decorated Olympian of all time. And he's not the only one, we've been talking about it for days with our customers and vendors," exhibitDEAL's spokesperson explained. "So we came up with the idea to share the Olympic enthusiasm with all of our customers, by providing discounts based on how many medals Team USA wins each day. It just feels great to root together for our preferred athletes, and reward our customers for sharing in the fun."
Customers of exhibitDEAL will receive a percent discount equal to the total of medals awarded to Team USA on the previous day, up to 10%. The company will be showcasing the medal standings on its website to track Team USA's progress and the daily discount. And the fun does not end with the closing ceremonies; customers still enjoy a percent discount until the end of August, based on the average of daily medals won. To learn more about this promotion, please visit: http://www.exhibitdeal.com/promo-jul-2012.html.
It's not the first time exhibitDEAL has created a promotional program related to world sporting events. During the 2010 World Cup, exhibitDEAL employees had a chance to win prizes for guessing the scores of the soccer matches. "It gave the experience of watching the games a totally new perspective. So we hope our customers will also be eager to follow the achievements of our great athletes, since they can save on their trade show exhibits and graphics in the process," added exhibitDEAL's spokesperson.
The promotion will begin on Sunday, July 29 based on the medal totals from Saturday. To take advantage of this offer, customers can call exhibitDEAL's exhibit experts at 1-866-577-3325 or email sales(at)exhibitdeal.com with the medal standing, to receive the corresponding discount on their purchase. The discount applies to exhibitDEAL's most popular lines of trade show exhibits as well as trade show graphics. In addition, customers will receive a complimentary consultation on their exhibit program when they contact the company.
About exhibitDEAL
Founded in 2000, exhibitDEAL is The Original Exhibit Wholesaler offering portable trade show displays at amazing prices. Their website (http://www.exhibitdeal.com) offers a wide variety of display solutions for trade shows, events, retail and promotional marketing strategies including: pop ups, banner stands, counters, workstations, digital signage, custom modular exhibits, flooring and other accessories. As a global online provider headquartered in Fort Lauderdale, Florida, they manufacture many of the displays featured on their website; the rest are sourced from the most reputable manufacturers and tested by exhibitDEAL's team to the highest standards. Their in-house design team makes them a one-stop source for your next trade show or event.