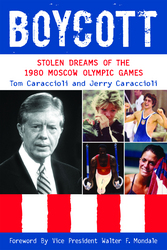 The Bud Collins History of Tennis.
New York, NY (PRWEB) May 8, 2008
Stories of American athletes denied the opportunity to compete in the 1980 Olympic Games in Moscow – due to geopolitical circumstances surrounding the Jimmy Carter-led United States boycott of the Games – are featured in the new book "Boycott: Stolen Dreams of the 1980 Moscow Olympic Games", launched today – three months to the day until the 2008 Olympic Opening Ceremonies in Beijing, China.
Written by identical twins Tom and Jerry Caraccioli, "Boycott: Stolen Dreams of the 1980 Moscow Olympic Games" ($25.95, New Chapter Press) chronicles the stories of 18 elite American athletes who had their once-in-a-lifetime chance at Olympic glory taken from them due to the U.S. boycott. The book also outlines the Soviet invasion of Afghanistan that led to the boycott, efforts by a group of athletes to legally overturn the boycott, and the entire 1980 team receiving ceremonial gold. More information on the book can be found at http://www.boycottbook.com .
Vice President Walter Mondale, who spoke on behalf of the boycott prior to the USOC's April 12, 1980 vote to officially boycott the Games, wrote the Foreword for the book. Mondale apologizes to the 1980 Olympic team but calls the team, "warriors in our country's defense of freedom."
"Boycott" is published by New Chapter Press (http://www.newchapterpressmedia.com)] – also the publisher of "The Roger Federer Story, Quest for Perfection" and "The Bud Collins History of Tennis."
Athletes featured in Boycott are:
Don Paige (Athletics) Philadelphia, Pa.; Glenn Mills (Swimming) Ridgeville, Ohio; Gwen Gardner (Athletics) Los Angeles, Calif; Gene Mills (Wrestling) Pompton Lakes, N.J.; Craig Beardsley (Swimming) New York, N.Y.; Sue Walsh (Swimming) Hamburg, N.Y.; Bill Hanzlik (Basketball) Beloit, Wisc.; Amy Koopman (Gymnastics) Arlington Heights, Ill.; Isiah Thomas (Basketball) Chicago, Ill.; Carol Blazejowski (Basketball) Fairview, N.J.; Luci Collins (Gymnastics) Englewood, Calif.; David Kimes (Shooting) Monterey Park, Calif.; Brian Gust (Wrestling) Lakeville, Minn.; Lisa Buese (Swimming) Louisville, Ky.; Linda Cornelius Waltman (Athletics) Ft. Worth, Tx; Thomas Schuler (Cycling) Birmingham, Mich.; Ron Galimore (Gymnastics) Ames, Iowa; Debbie Landreth (Volleyball) El Segundo, Calif.
CONTACT: Randy Walker, 917-770-0843 or Rwalker @ newchapterpressmedia.com
# # #