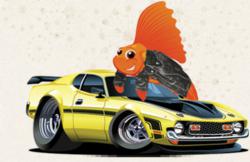 [I]f you think about over time what makes the most sense, economically and ethically, I think we can all agree that using a portion of the park for housing will come out on top.
New York, NY (PRWEB) July 04, 2012
RoadFish.com men's lifestyle and finance magazine today applauded the intentions of London officials to turn the Olympic Park into a new neighborhood after the games are completed this summer, and questions why affordable housing was not implemented sooner. Currently the UK is experiencing record-high rent rates, which according to PropertyTalk.com are 2.3% higher than one year ago, coming in at an average of 712 pounds ($1,110 US dollars) per month in England and Wales.
Feargus O'Sullivan of The Atlantic Cities, a publication that reports on worldwide housing, transit, and urban design, reported that it was just officially agreed upon last week to begin construction on a new neighborhood in the wake of London's Olympic Games. The plan is to turn London's Olympic Park into a 960-home neighborhood, which will be called Chobham Manor, and is slated to be finished in the fall of 2013. According to O'Sullivan's report, the houses will be located where the current Olympic basketball court stands, and is the very beginnings of the ultimate goal of turning London's Lower Lea Valley into an area dense with affordable housing. No mention of which estate agents would be working the properties, or exact pricing was revealed.
RoadFish.com applauds London city officials for this productive use of the space. RoadFish.com's Senior staff writer is quoted as saying, "I'm not sure what other cities do with the sites of their Olympic Parks, but all of the ones I've personally visited keep the parks intact to draw tourism. I think that's all well and good, but I think it's an even better plan to turn the site into a much-needed new neighborhood. I'm not saying to tear the entire park down, as I know it was very expensive to rebuild. But if you think about over time what makes the most sense, economically and ethically, I think we can all agree that using a portion of the park for housing will come out on top."
The above-mentioned Atlantic Cities article reports that affordable housing is currently incredibly scarce in London, and there are no limits to how high rent can go. There are no current rent controls, even though many residents are pushing for what they refer to as "New York Style" rent controls (meaning putting a cap on rents and having a maximum bottom line.) O'Sullivan points out that affordable housing is desperately needed in London at the moment, as many housing plans that were intended to provide reasonably priced abodes have flopped. One example is the Greenwich Peninsula area, which has not done anything yet to cash in on its grant to build more than a thousand homes, though it received permission to do so in 2002. Another neighborhood mentioned is the newly built Strand East, which was originally supposed to contain 35% affordable housing but in reality currently only holds 15%.
While RoadFish.com commends the new Olympic-site housing plans, it wonders why action wasn't taken sooner to remedy a difficult housing situation. RoadFish.com's Senior staff writer is quoted as saying, "It's no secret that there's a bit of a financial crisis going on in the Euro zone at the moment, not to mention a fairly significant housing situation in the UK. Mortgage rates are crazy high, and people are needing to sell their homes. As good of an idea as the Chobham Manor neighborhood is, my question is why wasn't affordable housing addressed earlier? It seems to me that the well-being of one's country should come first."
O'Sullivan reports in the above-mentioned article that the ultimate vision for the post-Olympic neighborhood is a grand total of 6,800 homes, coming from five different neighborhoods, completed by 2031. The article notes that the intentions for the new neighborhood are to make it more family-friendly, including building four schools in the area, and to keep 35% of the housing at fixed, affordable rents.
About RoadFish.com
RoadFish.com is an online men's lifestyle and finance magazine targeted toward men in their 30's and 40's that have already attained a moderate level of success in life, and are striving toward more. It goes over current events of interest to this group, such things as exciting adventures, managing personal finances, consumer interests, hot chicks, and summer travel and tourism tips as well as ways to make more and save more money. It is a publication owned by Purpose Inc.
# # #