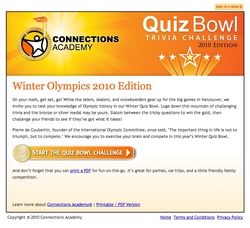 The Olympics are such an exciting event, and they truly bring the world together as we all cheer on the feats and efforts of our best amateur athletes
Baltimore, MD (Vocus) February 4, 2010
Educators from Connections Academy (http://www.ConnectionsAcademcy.com ) are offering families a fun, free, online Olympics-themed trivia game to help kids and their families gear up for the Vancouver 2010 Olympic Games that begin in less than 10 days. Students of all ages – and their parents – can play the Connections Academy Quiz Bowl Trivia Challenge, Olympics Edition, and then challenge their friends. The special Olympics Edition is available to the public and is inspired by Connections Academy's year-long Quiz Bowl Challenge – a popular activity designed to educate and recognize Connections Academy students during the school year and one of the many clubs and activities students at the virtual school enjoy.
Featuring twenty trivia questions of varying degrees of difficulty, the Quiz Bowl Challenge promotes lively and educational discussion between parents, students, and friends of all ages. Students and their families can "play" online, or download a printable version for use in the car, at parties, or over dinner, by visiting http://www.caquizbowl.com.
"The Olympics are such an exciting event, and they truly bring the world together as we all cheer on the feats and efforts of our best amateur athletes," observes Dr. Patricia Hoge, Vice President of Curriculum and Instruction for Connections Academy. "We created the Connections Academy Olympics Quiz Bowl Challenge to leverage children's natural excitement about the Olympics – and to provide an educational activity that also entertains. Families can take the challenge together, giving parents a chance to spend quality time with their child while promoting learning in the home. And a quiz game does a lot more than just test knowledge – it builds essential skills such as reasoning and problem solving. When played as a group it contributes to social abilities such as taking turns and waiting, as well as verbal communication when discussing an answer."
SAMPLE QUESTIONS
1. Which of the following is not a color found on the five rings in the Olympic symbol?
a. purple
b. green
c. blue
d. red
2. Which sport involves sliding a 42 lb. stone across ice towards a colored target?
a. skiing
b. bobsledding
c. curling
d. skating
3. The first Olympic games were held in
a. Athens.
b. Sparta.
c. Pompeii
d. Olympia
Answers: 1 – a, 2 – c, 3 – d
To take the Connections Academy Quiz Bowl Challenge or to download the complete list of questions, visit http://www.caquizbowl.com
Connections Academy is a leading national operator of high-quality, tuition-free, highly accountable virtual public schools. Serving students in kindergarten through 12th grade, Connections Academy is designed to meet the needs of students and families who are looking for an alternative to the traditional classroom – those who need a flexible schedule, learn at a different pace from their peers, are looking for a different learning environment or need more individualized attention. Delivering personalized education, Connections Academy's program combines strong parental involvement, support from state-certified teachers, the accountability of public education and the flexibility of online learning. Connections Academy operates a national network of 15 full-time virtual public schools across 14 states, serving 20,000 K-12 students.
For more information on Connections Academy, visit http://www.ConnectionsAcademy.com.
About Connections Academy
Connections Academy is a leading national provider of high-quality, highly accountable virtual public K-12 schools operated in partnership with charter schools, school districts, and state departments of education. Connections Academy schools deliver top quality, personalized education for students that combines certified teachers, a proven curriculum, technology tools, and community experiences to create a supportive and successful environment for children who want an individualized approach to education. In Connections Academy's Personalized Performance Learning® approach, students use daily lesson plans and curriculum materials provided by Connections Academy. Teachers develop a learning plan for each student, utilizing a proprietary, web-based Learning Management System to deliver, track, and administer the learning. In 2009-10 Connections Academy expects to serve students through public school programs in Arizona, California (Southern and Central), Colorado, Florida, Idaho, Minnesota, Nevada, Ohio, Oregon, Pennsylvania, South Carolina, Texas, Wisconsin and Wyoming. Not all of these schools offer the full range of K-12 grades. Connections Academy also serves K-12 students from anywhere in the country through its private virtual school, National Connections Academy. For more information, call 800-382-6010 or visit http://www.ConnectionsAcademy.com.
CONTACT:
Allison Bazin, Connections Academy Public Relations
(609)247-0275
abazin(at)connectionsacademy(dot)com
Sandy Burke, Athena Public Relations
(203) 655-3475
sandy(at)athenapr(dot)com
# # #